Join Our Mailing list
Stay up -to-date with the latest at the National Library of Medicine.
Close
Exhibitions:
Life and Limb: The Toll of the American Civil War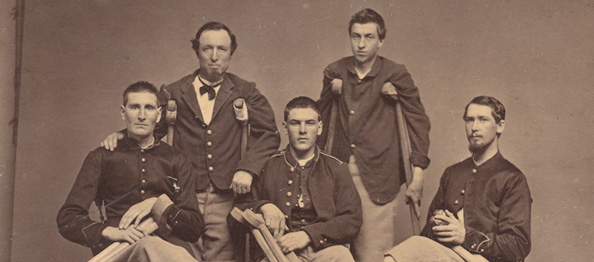 More than three million soldiers fought in the American Civil War. More than half a million died, and almost as many were wounded but survived. Hundreds of thousands were permanently disabled by battlefield injuries or surgery, which saved lives by sacrificing limbs. While the perspectives of surgeons, physicians, and nurses are richly documented in the history of Civil War medicine, the experiences of injured soldiers during the conflict and the years afterwards are less well-known. Life and Limb: The Toll of the Civil War focuses on disabled veterans and their role as symbols of the fractured nation.
The online exhibition features a range of resources for educators and students including lesson plans developed by in-classroom teachers for middle- and high-school courses, and a higher education module developed by a scholar working in the discipline for undergraduate and graduate students and instructors.
Beginning in March 2011, Life and Limb became available as a traveling exhibition free of charge to interested libraries and cultural centers. Please go to Book a Traveling Exhibition for more information.
Last Reviewed: December 4, 2015