History of Medicine
History of Medicine Reading Room
Welcome
The NLM History of Medicine Division (HMD) Reading Room is open to the public free of charge. Here the public has access to one of the world's richest collections of historical material related to human health and disease. You can save valuable research time by learning as much as possible about our holdings before you visit. We encourage you to contact us in advance.
Hours and Directions
Monday-Friday, 8:30-5:00 (EST), except on Federal holidays.
Materials requested onsite are retrieved from the stacks regularly throughout the day. The last retrieval from the stacks is at 3:00 p.m. Plan your time accordingly, so you can get your Library card, register, search, and submit requests for retrieval.
The National Library of Medicine (NLM, Building 38) is located on the NIH campus in Bethesda, MD. Before you come please review the NIH Visitors and Security page for details about accessing the NIH campus. Learn more about how to Visit Us.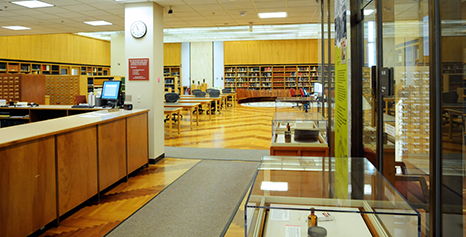 Using the HMD Reading Room
Researchers are required to register at the reference counter and sign the visitor's book. Papers and notebooks are permitted in the Reading Room. Coats and bags must be stored in secure lockers in the cloakroom. Pens and highlighters may not be used with collection material. We will supply pencils for note-taking on request. Electrical outlets and WiFi are available at all desks. For more information about using NLM's historical collections, review our FAQs, Contact Us, or Ask a Reference Librarian.
About the History of Medicine Collections
Holdings include pre-1914 books, pre-1871 journals, archives and modern manuscripts, medieval and Islamic manuscripts, a collection of printed books, manuscripts, and visual material in Japanese, Chinese, and Korean; historical prints, photographs, films, and videos; pamphlets, dissertations, theses, college catalogs, and government documents. Find out more About Us.