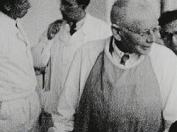 Herr Professor Doktor Jakob Erdheim
1933 / 5:16
Presenter: Jakob Erdheim
Silent, black-and-white.
Bibliography
Bordwell, David/ Staiger, Janet/ Thompson, Kristin: "The Classical Hollywood Cinema: Film Style & Mode of Production to 1960." p. 298–308. In: Bordwell, David (Ed.): The Introduction of Sound. New York. 1985.
Buklijas, Tatjana: "Cultures of death and politics of corpse supply: anatomy in Vienna, 1848–1914." In: Bulletin of the History of Medicine 82 (2008). p. 570–607.
_____: "The politics of fin-de-siècle anatomy." In: MG Ash and Jan Surman: The nationalization of scientific knowledge in the Habsburg empire, 1848–1918. London: Palgrave Macmillan. 2012. p. 209-44.
Curtis, Scott: "Dissecting the Medical Training Film." In: Braun et al (Ed.): Beyond the Screen. Institutions, Networks and Publics of Early Cinema. New York. 2012.
Czeike, Felix: Historisches Lexikon Wien. Kremayr & Scheriau. Vienna. 1992–2004. Online: https://www.wien.gv.at/wiki/index.php/Jakob_Erdheim.
Fischer, Isidor (Ed.): Biographisches Lexikon der hervorragenden Ärzte der letzten fünfzig Jahre. Band 1: Aaser-Komoto. Urban & Schwarzenberg. Munich. 1962.
_____ (Ed.): Biographisches Lexikon der hervorragenden Ärzte der letzten fünfzig Jahre. Band 1: Aaser-Komoto. Urban & Schwarzenberg. Munich. 1962.
Laukötter, Anja/ Bonah, Christian / Cantor, David (Ed.): Communicating good health: Movies, medicine and the cultures of risk in the twentieth century (forthcoming).
Martinet, Alexis: Le cinéma et la science. Paris. 1994.
Nemec, Birgit/ Taschwer, Klaus: "Terror gegen Tandler. Kontext und Chronik der antisemitischen Attacken am I. Anatomischen Institut der UniversitÄt Wien, 1910 bis 1933." In: Oliver Rathkolb (Ed.): Der lange Schatten des Antisemitismus. Kritische Auseinandersetzungen mit der Geschichte der UniversitÄt Wien im 19. und 20. Jahrhundert. Vienna: V&R. 2013. p. 147–73.
_____ / Pilz, Katrin: "Körper - Pulsierende Quadrate, bewegte Darmentleerung und der Rhythmus des Vitalen." In: Klaus Müller Richter, Michael Cowan, Christoph Bareither, Birgit Nemec, Karin Fest, Kurt Beals, Paul Dobryden (Ed.): Hans Richters Rhythmus 21. Ein Schlüsselfilm der Moderne. Könighausen & Neurath. Würzburg. 2013. p. 103-14.
Nichtenhauser, Adolf: History of Motion Pictures in Medicine. Unpublished ca. 1950. Located In: Modern Manuscripts Collection. History of Medicine Division, National Library of Medicine. Bethesda. MD. MS C 380. 1954.
Ostherr, Kirsten: Cinematic Prophylaxis. Globalisation and contagion in the discourse of world health. Durham/London. 2005.
Pilz, Katrin: "Der schwangere Frauenkörper in der Wiener medizinischen Kinematografie." In: Schwarz, Werner Michael/ Zechner, Ingo (Ed.): Die helle und die dunkle Seite der Moderne. Festschrift Siegfried Mattl. Turia & Kant. Vienna. 2014. p. 145-52.
Reagan, Leslie J./ Tomes, Nancy/ Treichler, Paula A. (Ed.): Medicine's moving pictures. Medicine, health, and bodies in American film and television. New York. 2007.
Sablik, Karl: Julius Tandler. Mediziner und Sozialreformer. Vienna. 2010.
Thévenard, Pierre/ Tassel, Guy: Le cinéma scientifique français. Paris. 1948.
Tragl, Karl Heinz: Chronik der Wiener Krankenanstalten. Böhlau Verlag. Vienna/Graz. 2007.