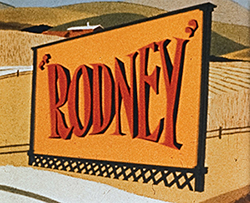 Rodney
1950 / 10:18
National Tuberculosis Association.
Sound, color.
Bibliography
Katherine Ott, Fevered Lives: Tuberculosis in American Culture since 1870 (Cambridge: Harvard University Press, 1996).
Sheila Rothman, Living in the Shadow of Death: Tuberculosis and the Social Experience of Illness in American History (Baltimore: Johns Hopkins University Press, 1995).
Richard, Shryock, National Tuberculosis Association 1904–1954 (New York: National Tuberculosis Association, 1957)
Michael E. Teller, The Tuberculosis Movement: A Public Health Campaign in the Progressive Era (Westport, CT: Greenwood Press, 1988)
Nancy Tomes, "Tuberculosis Religion," The Gospel of Germs: Men, Women and the Microbe in American Life (Cambridge: Harvard University Press, 1998), 113–34.
_____, Paula A. Treichler & Leslie J. Reagan, eds., Medicines Moving Pictures (Rochester: University of Rochester Press, 2009).
Paul Wells, Animation and America (Edinburgh: Edinburgh University Press, 2002)
Leonard G. Wilson, "The Historical Decline of Tuberculosis in Europe and America: Its Causes and Significance," Journal of the History of Medicine and Allied Sciences 45 (1990): 366–96.