Caspar C. Henkel's life, family, and times, 1850-1907
I. 1850-1854 | II. 1855-1859 | III. 1860-1864 | IV. 1865-1869 | V. 1870-1874 | VI. 1875-1879 | VII. 1880-1884 | VIII. 1885-1907
I. 1850-1854
Caspar C. Henkel received his primary education without leaving New Market. The New Market Academy opened in 1817 and was led for several decades by a well-regarded scholar, poet and linguist, Joseph M. Salyards (1809-1885). In his time, he was considered the greatest educator in the Shenandoah Valley.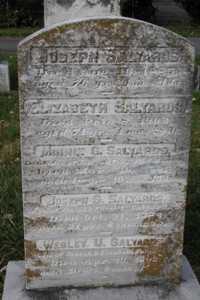 While Caspar was completing his studies at home, some friends and relatives had already ventured out in search of education and fortune. A close friend and cousin of Caspar's was Abram Shultz Miller (1830-1896), grandson of Dr. Gottfried Miller of Winchester. Samuel Henkel had mentored Shultz and encouraged his medical studies at his own alma mater, the University of Pennsylvania School of Medicine. He graduated in 1854 and returned to New Market to join Samuel and Solon Henkel's practice. Another boyhood friend, John L. Beazley, attended the University of Virginia's School of Medicine for a term or two beginning in 1854, before joining his family who had migrated from New Market to Georgia.
Silas Barger, a cousin from New Market, was inspired by the financial possibilities of the California gold rush, which had captured the country's imagination and fed its desires in 1849. Both he, A. F. Olinger, and John Graves, other local friends of Caspar's, expected to use gold mining as a quick method of amassing capital, which would provide the means to acquire property upon returning to Virginia.
In October 1854 Caspar traveled to Philadelphia with his father, who helped him find a rooming house as he began his formal medical education at the University's School of Medicine. Samuel could afford to support Caspar during his studies, despite having a large family at home, because in addition to his medical practice he also worked an extensive family farm. With help from family members and a couple of hired hands, the Henkel farm produced for their own subsistence and for the market corn, wheat, grasses, and apples, and raised hogs, sheep and cattle. Caspar never took the support for granted and always tried to economize and limit his expenses to the bare necessities.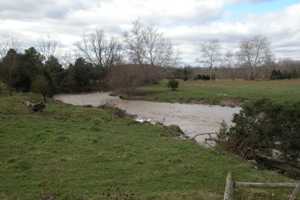 While Caspar was at school, his friends and family wrote him regularly, keeping him up to date with news from home and alleviating his loneliness in the unfamiliar city. His sisters Susan, Ellen, and Julia told regularly of local events, while Rebecca related activities from her new life in Augusta County. In November of 1853 she had married Gideon Koiner (1826-1897) and they built a homestead they called Brogue Run. Friends Berryman Zirkle Price and George R. Calvert, who worked at the Henkel printing office, as well as cousin Noah D. Row, wrote occasional letters. Samuel offered regular advice and encouragement, including funds when needed, and provided the details of certain medical cases he was treating.
Everybody was interested in the railroad construction taking place in the valley. The Manassas Gap Railroad was extending a line from Manassas Junction to Strasburg, the first railroad in the Shenandoah valley. Speculation was rife as to how it and other proposed lines would benefit or hurt local trade depending on the track placement.
Doctors Jacob Sommers and Eugene Rice annoyed Samuel when they set up a practice in New Market in late 1854. Samuel was concerned that the small town could not support so many physicians and that inevitably the Henkel practice would suffer financially. He also doubted the new doctors' knowledge and abilities and watched their activities very closely.
---
II. 1855-1859
From October 1854 to March 1857 Caspar studied in Philadelphia, returning home each year for the spring and summer. While at school, he was regularly called upon to assist New Market relatives in ways both essential and otherwise. The Henkel brothers' practice depended upon a stock of drugs and equipment which they replenished semi-annually from large drug firms in major cities. On earlier occasions Samuel had purchased his stock from a Baltimore drug company, but while Caspar was in Philadelphia, drugs were acquired from Fahnestock's. It saved Samuel the time and effort of making a personal trip to Philadelphia to have Caspar coordinate the selection and purchase while he was going to school. He was enlisted in similar duties on behalf of the Henkel Press. Samuel required him to shop for a replacement printing press and related equipment as well as conduct business with binderies and paper suppliers.
He was also kind enough to comply with requests from local friends and relatives. D. G. Neff of New Market heard about a dentist selling used equipment in Philadelphia and asked Caspar to obtain certain instruments for him, while his cousin Solomon P. Rupert asked him to represent his interests with a Philadelphia tailor. A cape had been made which was unsuitable, and Rupert asked Caspar to get a partial refund from the tailor.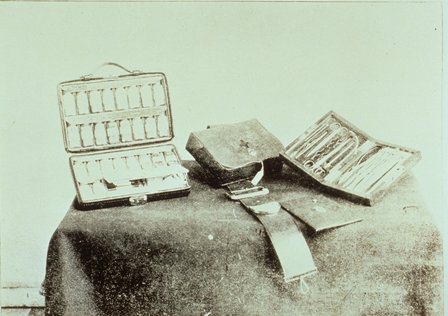 While at home between school terms and after his graduation, Caspar received letters from some classmates telling of their experiences during final exams in Philadelphia and about their practices and lives after graduation. James Sawyers went home to Knoxville, Tennessee, and Daniel Hand chose to practice in Minnesota, while Thomas Landram ended up closer by, in Spottsylvania. William H. Miller attended Jefferson Medical College, but lived in the same rooming house with Caspar. He joined a practice with Dr. Rust in Luray. W. H. Trout practiced in Woodstock and Sheetz Mills. Caspar himself devoted his thesis to chlorosis and graduated in March of 1857. He immediately returned home to join the family practice.
Events interesting, joyful, and alarming had taken place in New Market during his long absences. He was happy to welcome his cousin and good friend Shultz Miller into his family when he married Caspar's sister Julia in November 1856. Their mutual regard was manifest in Julia's first child, who was named Caspar Otto Miller (1857-1945).
Repeated fears of slave uprisings presaged the coming war. In January 1857 and January 1859, New Market citizens armed themselves and conducted night watches in town. They had heard rumors that slave revolts throughout the state had been planned and were imminent, though nothing occurred.
A more likely threat to New Market was a smallpox outbreak in Luray during December 1856. The road through the Massanutten mountain pass between New Market and Luray was feared to be a direct means of transmission and, for a time, traffic was halted. Samuel, Solon, and Shultz gave vaccinations in town as a precaution.
In letters both from New Market and Philadelphia, the Henkels commented on the extreme weather conditions that descended upon them during January 1857. This storm, subsequently known as the "Cold Storm," was probably the most severe storm to hit the East Coast during the nineteenth century.
Friends and relatives kept Caspar apprised of their activities when they were apart. His good friend George Calvert had left New Market initially intent on making his way in Texas, but financial obligations kept him in Virginia. He went to Richmond and studied law under Judge William W. Crump. While there, Calvert spoke disparagingly to Caspar about the local medical school and its students. A. F. Olinger, the friend who had been in California since at least 1854, was remaining there as a farmer and school teacher in Watsonville. Norval Wickes formed a minstrel troupe in New Market and toured the countryside. They performed as far west as Roanoke, Missouri, before returning to Virginia.
The third of Caspar's sisters, Ellen, was married in 1859. During that winter she wed William Fulmer and moved to his family's home in Stewartsville, New Jersey. Though she became a resident of a northern state, she never lost her identity as a southerner. She, along with friends and other relatives of Caspar's, was explicit in defending the south's institutions and condemned John Brown's failed raid at Harpers' Ferry.
---
III. 1860-1864
In 1860 the Henkels and their friends anticipated civil war, and when Lincoln was elected in November they felt it was inevitable. Even though slaves were held in Shenandoah County, the Henkels themselves chose not to own slaves. They did, however, usually make an annual contract with a local slaveowner for a woman to work as a domestic servant in their home. Upon the inheritance of a deceased relative's slaves in 1856, Samuel declined acceptance of any, not wanting "to bring a curse" upon himself.
Though they didn't participate in slave ownership, the Henkels did not specifically condemn the practice and that was at the root of their animosity towards the north. The main issue to them was the principle of an outside body or force seeking to impose its will upon them, which was intolerable and which they would engage in open conflict to prevent. This, rather than a rationale about the propriety of slavery, justified their opposition.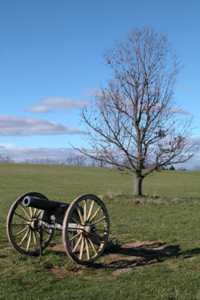 The Henkel men, their friends, and their relatives took up arms in the southern cause shortly after Virginia seceded in April 1861. Caspar's cousin Elijah "Lige" Coiner joined Captain Patrick's Augusta company which occupied Harper's Ferry at the end of April. Berryman Z. Price, David F. Kagey, Benjamin F. Graves, and cousin Polybius Henkel all joined W. H. Rice's 8th Star Artillery, which was formed in New Market. This unit served under Thomas "Stonewall" Jackson in the Army of Northern Virginia. Graves was killed in battle at Greenbriar River on October 3, 1861. Polybius died of disease in February 1862.
Caspar joined the 2nd Regiment, 7th Brigade of the Virginia Militia as an assistant surgeon in July 1861. He spent the bulk of his service in the 37th regiment of the Virginia Volunteers in the 3rd Brigade under General Jackson, then under Joseph Johnston and Richard Ewell after Jackson's death. Shultz Miller also served as assistant surgeon, with the 20th Virginia Volunteers during 1862 and the 25th Virginia Volunteers during 1863. Both were kept away from home for the duration of the war, which added to the hardships in New Market.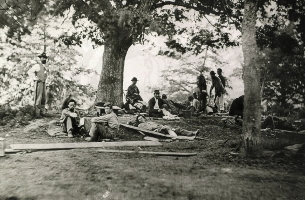 Like many soldiers during the war, Caspar and Shultz were dependent upon their families to provide them with clothing, much of their basic equipment, and extra food. This burden was cheerfully accepted by the Henkel family. Susan Henkel and her daughters devoted much of their time to making pants, socks, coats, gloves, and caps for Caspar and Shultz. Postal service was very uncertain during most of the war and usually letters and supplies were sent together to soldiers in the field by way of friends or relatives or strangers who passed through New Market and were headed to the field of war.
The Henkel farm and medical practice were stretched beyond the point of endurance by the war. Most predictably, the farm lacked sufficient labor. Practically every able-bodied man was fighting. Samuel fought the Confederate government for years to retain the assistance of his son-in-law Gideon Koiner. Both he and Rebecca spent most of the war with the Henkels in New Market. Caspar's younger brother Abram, who was 17 at the war's outbreak, was the only other reliable help. Harvests were partial and crops often went unplanted.
In addition to the farm taking up his time, Samuel was also overworked by a lack of physicians in New Market. In addition to Caspar and Shultz's absence, Dr. Jacob Neff died in 1862 and Dr. Rice was chronically ill with asthma. Dr. Sommers had long since left New Market. This left Samuel and Solon on constant call for all the town's ailments. Then, of course, wounded soldiers either returned home injured, straggled down the valley after a battle, or populated the military hospital at nearby Mt. Jackson. Young Abram and his sisters assisted in treating the wounded, but there was no relief for Samuel. After a couple of years of heroic labor, he contracted pneumonia and died on March 8, 1863.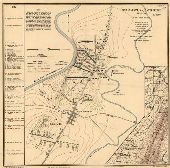 First-hand experience with the war was unavoidable in New Market. The entire valley was almost constantly either occupied or in the path of an advancing army. Citizens were routinely victimized by troops, both Union and Confederate, that stole fruit, vegetables, horses, and livestock and occasionally lingered to harass and loot. In mid-June 1862 the Henkels were visited by some surly German-speaking Union soldiers who were on their way north to rejoin Gen. John C. Frémont's retreat from the battle of Cross Keys, Virginia. They broke into some homes, including Solon's, ransacking the furnishings and stealing anything that they thought had value. Aside from property loss, though, no one was injured.
Certainly the most significant part New Market played in the war was as site of a battle on May 15, 1864. Throughout a morning and afternoon of driving rain, Generals John Imboden and John Breckenridge of the Confederacy defeated a larger Union force commanded by General Fritz Sigel.
View a list of troop movements in Shenandoah Valley during war - Troop Movements
The war tended to draw parts of Caspar's extended family closer together. Concerned cousins regularly wrote to him, anxious about his welfare and letting him know how the war was affecting them and their families. Fannie Coiner, a cousin in Augusta County, had two brothers in the army and was close in age to Caspar. In Winchester cousins Fannie, Lib, and Beck Wolfe also had a brother in the army. The Miller sisters, his cousins Laura, Margaretta, and Mary Ellen, corresponded with Caspar from Winchester. He stayed with the Millers on many occasions when the army was encamped or marching nearby.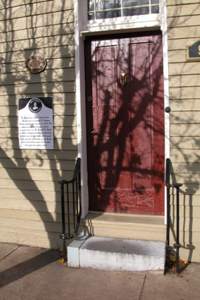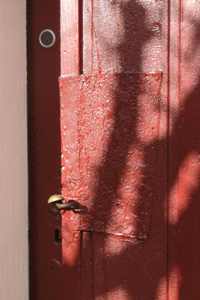 pictures of Solon Henkel house doorway and close up of metal plate covering damage done by union troops
---
IV. 1865-1869
Upon returning home from the army, Caspar, as the eldest son, assumed his father's role as head of the family. He went into partnership with his uncle Solon and took responsibility for the education of his younger siblings, who increased by one after his sister Ellen died suddenly during the spring of 1865. Her husband William Fulmer allowed their young son, Samuel "Sammie" (1863-1874), to live with the family in New Market and be reared as Samuel Henkel.
The closeness formed with Millers and Wolfes during the war continued through regular correspondence and occasional visits in the ensuing years. While visiting Winchester during June 1866, Caspar and Margaretta initiated a courtship that culminated in their wedding on January 17, 1867. They made their home in New Market, but for extended periods Margaretta visited in Winchester with her sisters. Ellen, their only child, was born in 1868.
Another family friendship resulted in marriage in 1868. David F. Kagey, a close friend of Caspar's, married Caspar's sister Emma in September. Kagey had attended medical school at the University of Virginia during the fall of 1863 but left the program to serve the Southern cause. Though they had no children, Emma seems to have assumed Ellen's role as Sammie's mother until his untimely death.
Caspar's brother Abram, who had spent much time accompanying his father on medical rounds and had subsequently worked in the family apothecary and read medical texts that Caspar recommended, began medical school at the University of Virginia in January 1867. He attended only through June then attended the University of New York Medical Department beginning in November. He kept Caspar well apprised of his studies and experiences at both schools. After graduating in the spring of 1868, Abram started a practice in Staunton, Virginia. He maintained a regular correspondence with Caspar, telling him of noteworthy cases and occasionally asking advice.
---
V. 1870-1874
Margaretta's sister and Caspar's cousin, Laura Miller married in the spring of 1869. She went to live with her husband, Maurice Adler, in Washington, D.C. Another of Margaretta's sisters, Mary Miller, married Jacob Baker and settled in the Winchester area.
Since Margaretta lived in New Market, the sisters kept in touch through letters. After Laura died suddenly in 1871 Maurice maintained his family relationship with Caspar and her family.
Caspar continued to practice in partnership with his uncle Solon, and became a board member of the Staunton Institute for the Deaf and Dumb and the Blind.
He also mentored the education of his youngest brother Haller. In 1874 with the encouragement of Caspar and his good friend, now-judge, George R. Calvert, Haller spent the summer of 1874 studying law at the University of Virginia.
---
VI. 1875-1879
By 1876 Haller had decided to become a physician. In October he began at the University of Virginia's medical school. He remained there for two years before following in Abram's path and enrolling at the University of New York School of Medicine in the fall of 1877. He was an exceptional student and remained there into 1880 for clinical training beyond his basic education.
Caspar found himself caught up in the intrigues of the Western Insane Asylum and the Institute for the Deaf, the Dumb, and the Blind, both in Staunton. His vote for the Institute's superintendency, as a board member, was of prime interest after Superintendent Colonel McCoy died in September 1879. William Frazier and Thomas Doyle, teachers at the Institute, Dr. R. S. Hamilton of Staunton, and Major A. D. Cooke, a teacher at the West Virginia Institute for the Deaf and Dumb and their sponsors all lobbied Caspar for his vote.
Later in the fall of 1879 Dr. Baldwin, head of the Western Insane Asylum, also died. In this instance, there were two movements afoot in finding a replacement. Several board members, who were appointed by the governor, were adamant in ensuring that Dr. Fauntleroy of the Asylum was denied the position. Owing their positions to the favor of Governor Holliday, they wanted to punish Fauntleroy for his disloyalty to the governor. As an ultimately unsuccessful candidate for the position, Caspar was supported by many friends and board members.
---
VII. 1880-1885
By 1881 Haller had completed his studies in New York and had gone into partnership with his brother Abram in Staunton. He wrote regular lengthy letters through 1883 to Caspar telling of his cases and exchanging advice.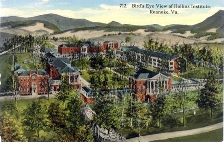 Caspar's daughter Ellen attended boarding school at the Hollins Institute, a school for women in Roanoke, in 1882. She wrote to Caspar of her experiences there.
George Moyers (1837-1905), a childhood friend of Caspar's, married Caspar's sister Ellen and began a family in Altamonte, Florida. They and their two sons, Haller and Kagey, were orange growers. In his letters, George boosted Florida's prospects and invited Caspar to visit.
---
VIII. 1885-1907
Correspondence during this period is sparse, giving little information about Caspar's activities. A letter from Haller in 1885 suggests that Caspar was still considering a position at the Western Insane Asylum.
The remaining letters involve Caspar's daughter, Ellen, who had married Frank Rupert, the son of Caspar's New Market cousin Solomon P. Rupert. One letter is to an S. F. Rupert, somehow related to Frank, and is from a college friend. The other is to Ellen from Frank's cousin Charles in Minneapolis informing her of her husband's travels.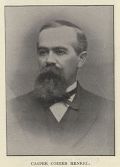 Only two letters complete the last period of Caspar's life. In the first, from 1901, Haller tells of some of his cases in Staunton and implores Caspar to join him on an impending vacation trip to the mountains. The second is from S. H. Henkel in Staunton, who thanks Caspar for some advice and updates him on his family's welfare.
After the Civil War, Caspar lived and worked the rest of his life as a physician in New Market. According to his obituary in the Shenandoah Herald, "He devoted himself largely to surgery, but in every branch of his profession he bore an enviable reputation for skill and learning. His practice was a very extensive one locally, and patients frequently sought his services from distant points." He died in New Market from complications of diabetes on November 16, 1908, aged 73.
---
Home | The Letters | Life, Family, and Times | Henkel Family Heritage | Colophon