Benjamin Rush, M.D. (1749-1813): "The Father of American Psychiatry"
---
Benjamin Rush, often called "The Father of American Psychiatry," wrote the first systematic textbook on mental diseases in America entitled, Medical Inquiries and Observations upon Diseases of the Mind, published in Philadelphia in 1812. The book went into five editions through 1835 and served as the major such textbook for almost 50 years.
Rush was born near Philadelphia of Quaker parentage and received his medical training through apprenticeship and a medical degree at Edinburgh, Scotland in 1768. He then toured medical facilities in England and France and returned to Philadelphia in 1769 to set up a private practice. Actively involved in civic and social affairs, he was elected to the Continental Congress in 1776, was a signer of The Declaration of Independence, served as a surgeon in the Continental Army during the American Revolution, and later was Treasurer of the U.S. Mint (1799-1813). Rush advocated strongly for education, temperance, and the abolition of slavery, and he helped establish two colleges in Pennsylvania.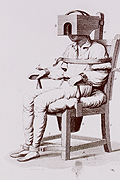 Benjamin Rush believed that mental diseases were caused by irritation of the blood vessels in the brain. His treatment methods included bleeding, purging, hot and cold baths, and mercury, and he invented a tranquilizer chair (pictured) and a gyrator for psychiatric patients. He published many medical papers and gave medical lectures to physicians and students.
| Diseases of the Mind Home | Introduction | Early Psychiatric Hospitals & Asylums | Benjamin Rush, M.D,: "The Father of American Psychiatry" |
| The 1840s: Early Professional Institutions & Lay Activism | 19th-Century Psychiatrists of Note | 19th-Century Psychiatric Debates | Credits |