---
Apollo, Eileithyia, and Hygieia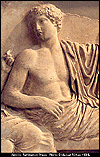 Apollo was often considered to be a god of healing, and in stories such as The Iliad is depicted as the bringer and reliever of plagues. Hera was a protector of women, and she and her daughter, Eileithyia, were often called upon during childbirth. The goddess Hygieia ('Health'), the daughter of Asclepius, was considered a guardian or personification of health.
Eileithyia and Hera assisting Zeus in the birth of Athena.
Vase painting, ca. 500 B.C.E.
While Eileithyia was often called upon by Greek women giving birth, she appeared most often in Greek art in depictions of the birth of Athena from the head of Zeus.
Hygieia
Engraving, by Bouillon (Paris, ca. 1830).
---