Youth in New York
Bacterial Genetics
Computers in Biomedical Research
Public Service
Credits
Public Service: 1978-present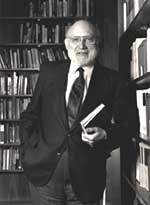 Lederberg as president of Rockefeller University, 1990.
Joshua Lederberg has not only been a creative bench scientist, but a public scientist and intellectual. At a time when the development of nuclear weapons and of genetic engineering tested as never before the ethical and political commitments of scientists, Lederberg has devoted himself to shaping public policy for over four decades. He has been an adviser to presidents, cabinet members, non-profit organizations, and international bodies on science and medical research policy, and also on mental health, emerging infectious diseases, space exploration, national security, and arms control. In his public career he personified the postwar American liberal, with a firm belief in the ability of modern government to improve society, and in the responsibility of scientists to help guide government action. In his varied interests and accomplishments, Lederberg has bridged the divisions between science, society, and politics.
---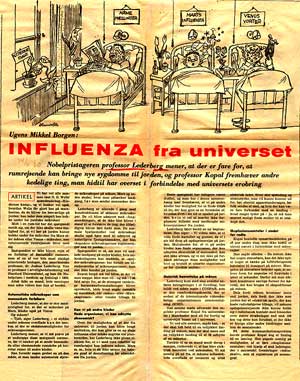 "Influenza from the Universe," article and cartoon from an unidentified Danish newspaper, June 24, 1960.
Lederberg's repeated public warnings about the danger of back contamination of the earth by returning space probes received international attention at the outset of instrumented space exploration in the late 1950s. Fear of interstellar contamination prompted him to seek a place for biology in the emerging NASA space program. The signs above the three patients read "Moon Measles," "Mars Influenza," and "Venus Warts."
---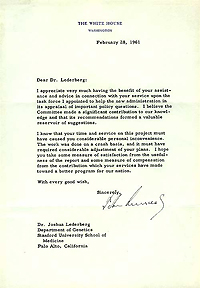 Letter of John F. Kennedy to Lederberg, Feb. 28, 1961.
Original in the possession of Joshua Lederberg.
In this letter President John F. Kennedy thanks Lederberg for his service as an adviser on health policy on Kennedy's White House transition team.
---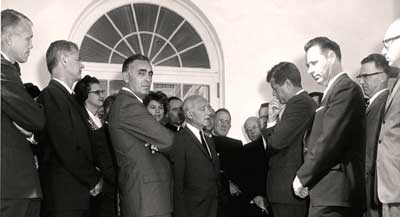 Photograph of meeting of Lederberg and other members of the President's Panel on Mental Retardation
with President John F. Kennedy, October 18, 1961.
Lederberg, who is on the far right, investigated the hereditary and molecular origins of mental retardation in children during the 1960s as part of his growing interest in human and population genetics. This research was supported by the Joseph P. Kennedy, Jr., Foundation, and led to close ties between Lederberg and members of the Kennedy family, especially Eunice Shriver (seventh from left) and her husband, Sargent Shriver.
---

Between 1966 and 1971, Lederberg wrote over 200 editorial columns on issues of science, society, and public policy for the Washington Post, bringing these pressing issues to the attention of a broad readership and of Capitol Hill.
To view the full article (PDF format), click on each one.
Examples of Lederberg's "Science and Man" columns from the Washington Post, 1966-71.
---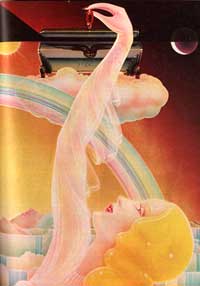 Illustration from Lederberg, "DNA Splicing: Will Fear Rob Us of Its Benefits?" Prism, vol. 3, no. 10 (November 1975), p. 33.
Click here
to view the full article (PDF format).
By the mid-1970s, geneticists had learned to recombine sequenses of DNA and had synthesized a complete gene from its component chemicals. With these breakthroughs arose fear that scientists might create dangerous new forms of life. In 1974, a committee of 139 scientists from the U.S. National Academy of Sciences and 18 foreign nations called for a halt in certain kinds of genetic engineering research until their environmental risks and ethical implications could be more fully assessed and regulations for laboratory safety written. This editorial expresses Lederberg's concern that overly stringent government regulation would stifle genetic research.
---
Building Pass for Joshua Lederberg to Department of Defense, November 1993. In the possession of Joshua Lederberg.
For over twenty years Lederberg has been a consultant to the Secretary of Defense and various Defense Department agencies on medical, scientific, and technological developments as they relate to military manpower, arms control, and national security.
---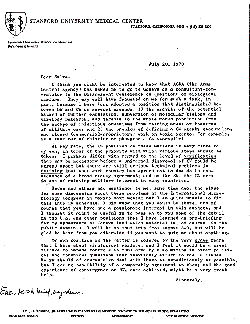 Letter from Lederberg to Salvador E. Luria, July 20, 1970.
In this letter to his long-time friend and fellow Nobelist Salvador Luria, Lederberg outlines his concerns over the proliferation of biological and chemical weapons (abbreviated "BW" and "CW", respectively, in the letter), and demonstrates his purposeful but also guarded approach to matters of public policy.
---
President Clinton chairing White House conference on bioterrorism, January 1999. Lederberg is fifth from the left at the table.
His interest in the genetics of emerging infectious diseases has led Lederberg to warn policymakers and military leaders in the U.S. and abroad against developing biological weapons. For over three decades he has called on the American government to negotiate limits on such weapons, and to prepare for a possible bioterrorist attack.
View the extensive Lederberg papers on Profiles in Science.