America's Tea Craze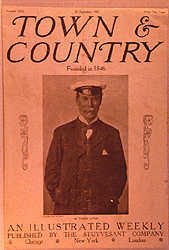 Tea imports grew exponentially in the late nineteenth and early twentieth centuries. The golden age of the China clipper ships in the mid-19th century was created by the tea trade. The famous Scotsman, Sir Thomas Lipton, used them to export his "brisk" blend of black tea to the U.S. during this period, packing his tea leaves in tins to prevent mold.
Lipton became a household word, however, after successfully capitalizing on two American tea innovations: the invention of the tea bag in 1908 and the introduction of iced tea at the Louisiana State Purchase Exposition in St. Louis, Mo. Today, nearly 70% of all tea sold in the U.S. is sold in tea bags rather than as loose tea, and nearly 80% of tea consumed by Americans is iced. Instant teas and tea mixes were not commercially feasible until 1948 but now make up at least 25% of tea sales.
Tea began to be promoted as a Temperance drink--'the cup that cheers but not inebriates.' Sales were also enhanced by the 1906 publication in English of The Book of Tea by Kakuzo Okakura, son of a Samarai warrior. The book conveyed to Westerners the sense of harmony, respect, purity, and tranquility that made the tea house such an important part of Japanese culture. An effective cultural bridge, the book portrayed the Japanese tea house as a quiet, sparsely furnished, and intimate space in which friends took a meal, drank tea, and enjoyed a brief respite from daily life.
The U.S. Department of Agriculture also began to experiment with domestic tea production, creating an experimental tea plantation in South Carolina in 1910. Then and now, it produces good tea, but often at higher prices than imported tea.
In 1897, the same year that Congress acted to create the Board of Tea Experts, the Journal of the American Medical Association decried America's 'Tea-worship,' tea-tippling,' and 'tea-debauchery." Although protesting the 'pernicious use' of either, JAMA laid down the gauntlet when it championed coffee over tea.
. . . from a medical standpoint, our preference is emphatically for coffee. Contrast the vigorous, refreshing odor and flavor of a good cup of coffee with the delicate and insipid taste of even a high grade tea; contrast the clear complexion and physical aspect of the individual whose morning meal is a bowl of diluted coffee and who takes his after-dinner cup, with the nervous, emaciated, habitually constipated dyspeptic whose "eye-opener" and "night cap" is tea, and all reason for argument as to our preference ends.
JAMA. 1897 Nov 6; 29(19):972