NLM welcomes 2022-2023 Associate Fellows
July 01, 2022
The National Library of Medicine (NLM), a global leader in biomedical informatics and computational health data science research and the world's largest biomedical library, is pleased to announce its 2022-2023 class of Associate Fellows.
Starting July, NLM Associate Fellows will begin a robust educational and leadership program offering myriad activities including formal lectures, presentations, projects in operations, research and development, policy, and data analysis. The 2022-2023 fellowship year will be conducted remotely.
The 2022-2023 NLM Associate Fellows include the following individuals: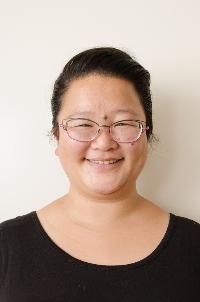 Mya Ballin received her MLIS with a First Nations Curriculum Concentration from the University of British Columbia (UBC) in May 2022. While completing her program, Mya served as a student representative for the Health Libraries Association of British Columbia and as an organizer for the UBC iSchool's Inclusion Diversity Equity and Safe Space (IDEAS) group, which advocates for racialized information studies students. She also worked as a student librarian for the virtual reference service AskAway and as an archives and reference assistant for the UBC Library's Rare Books and Special Collections. Mya is passionate about the development of knowledge organization and translation practices that listen to, incorporate, and reflect the needs and ways of knowing of marginalized communities through both community-led and community-conscious practices. As a fellow, she hopes to learn about and assess ways in which these philosophies are incorporated at the NLM through its bibliographic and outreach services. Following the fellowship, Mya aspires to work in an academic or government setting where she can apply her particular interest in the development of tools, vocabularies, and guidelines for search strategies as well as the refining and communication of data. Mya holds a Masters in Archival Studies from UBC and a BA in Liberal Studies from Oregon State University.
Carlette D. Dennis received her MLIS from Louisiana State University (LSU) in August 2019. She also received a certification in Records and Information Management from LSU and holds an additional certification as a Certified Records Analyst. As an employee of the New Orleans Public Library, Carlette has coordinated adult-based public programs; provided reference services to the public; and oversaw collection maintenance for her location. Carlette was also an active member of the Strategic Planning committee for her library system. While pursuing her MLIS, Carlette interned at the Law Library of Louisiana in the Louisiana Supreme Court and at the Archdiocese of New Orleans in the Archives and Records Department. During both internships, she developed an interest in conducting in-depth research, and created annotated document lists for both organizations, which led to the production of searchable document libraries. At the NLM, Carlette hopes to conduct research in user experience of databases, focusing on the use of plain language to improve the usability of databases for individuals of all socio-economic backgrounds. Carlette received her BA in Accounting from Dillard University. After the fellowship, Carlette hopes to continue her career in a special library or corporate setting where she can focus on reference, user experience, or knowledge organization and management.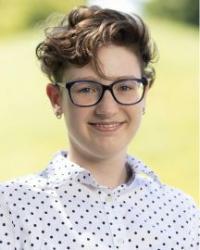 Leah Everitt received her MSLS from the University of Kentucky in May 2022. While pursuing her MSLS, she also worked at the University of Cincinnati Health Sciences Library as an intern then library specialist. During her time at the University of Cincinnati, she worked on a variety of activities such as a community outreach project, assessed a portion of the institutional repository using the FAIR Principles, and other research projects. During the fellowship at NLM, Leah hopes to work on more projects related to open scholarship facilitating interoperability through standard languages. After the fellowship, Leah plans to work at an academic or health science library in scholarly communications or reference. Prior to working in the library setting, Leah earned her BA in Biology from Earlham College and worked in biomedical research on virology and cancer research at Ohio State University and Case Western Reserve University.
Ellen Thieme earned her MLIS from the University of Missouri in 2022 through the school's Catalysts for Community Health (C4CH) Institute of Museum and Library Services grant fellowship, an interdisciplinary program for aspiring medical librarians. While obtaining her degree, Ellen had the opportunity to work at institutes and libraries centered on policy, health, data, outreach, and EDIB (Equity, Diversity, Inclusion, and Belonging). She is passionate about accessibility and belonging, particularly regarding language diversity and first-generation students. Before obtaining her MLIS, Ellen received a Bachelor of Educational Studies, or BES, from the University of Missouri. During the NLM Associate Fellowship Program, she would like to explore projects related to natural language processing, data analysis, outreach, and cataloging. Post-fellowship, she hopes to work on projects that increase access to impactful health information and build an easier path to medical librarianship for future learners.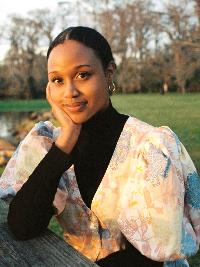 Kelly West received her MLIS from Louisiana State University in May 2022. During her time as a student, she worked as the inaugural Dewey Editor-in-Residence at OCLC. In this position she helped develop proposals for terminology changes to promote equity and inclusion within the Dewey Decimal System. She also worked as a virtual reference intern for Columbia University, where she helped create a digital web archive with Avery Library's Public Services librarian. Kelly received her BA in Media Studies from the University of Louisiana Lafayette and is honored to be both a Kaleidoscope Diversity Scholar through the Association of Research Libraries, as well as an American Library Association Spectrum Scholar. As an NLM associate fellow, Kelly hopes to learn more about medical librarianship as well as gain experience with data analysis and instruction. After the fellowship, she hopes to continue as a medical librarian in an academic or corporate setting while doing work related to data management, research, and health literacy.
Learn more about NLM's Associate Fellowship Program.