Jerry Sheehan, Deputy Director of Policy and External Affairs at the National Library of Medicine (NLM) Departs for a New Position at the Organisation for Economic Co-operation and Development
April 20, 2023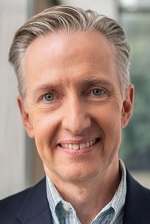 Jerry Sheehan, Deputy Director of Policy and External Affairs is leaving NLM to join the Organisation for Economic Co-operation and Development (OECD). Mr. Sheehan has been appointed as OECD's new Director of Science, Technology and Innovation.
"Mr. Sheehan's extensive policy knowledge, his passion for open science, and outstanding interpersonal skills contributed to the success of the many activities he carried out in support of NLM's mission," said NLM Director Patricia Flatley Brennan, RN, Ph.D.
During his tenure at NLM, Mr. Sheehan oversaw NLM's policy team and initiatives, fostered the work of a Blue Ribbon Panel that helped reshape NLM's Intramural Research Program and shepherded NLM's involvement in major NIH initiatives including the NIH Public Access Policy, the Genomic Data Sharing Policy, and the Data Management and Sharing Policy.
NLM is currently working on an interim plan to redistribute Mr. Sheehan's responsibilities across NLM leadership and developing a strategy to address the responsibilities of this position in the long term.