NLM Launches a New Online Exhibition – Outside/Inside: Immigration, Migration, and Health Care in the United States
February 24, 2021
The National Library of Medicine (NLM) announces Outside/Inside: Immigration, Migration, and Health Care in the United States, a new online exhibition.
Guest curated by historian and educator Beatrix Hoffman, PhD, Northern Illinois University, Outside/Inside primarily features items from the NLM historical collections and explores the history of ideas about immigrant health and immigrants' and migrants' experiences with U.S. health care since the late 1800s. Health care and medicine have played a role in inclusion and exclusion, in "assimilation" and discrimination, in dividing communities and strengthening them. The history portrayed in this exhibition reminds us that we all share a desire to protect our health and well-being.
The online exhibition includes an education component featuring a K-12 lesson plan and a university module developed by the guest curator. The digital gallery showcases a photo album from the 1930s created by and depicting visiting nurses from the Henry Street Settlement social service agency, at work caring for an immigrant community in the Bronx. This selection of images is also available in its entirety in NLM Digital Collections.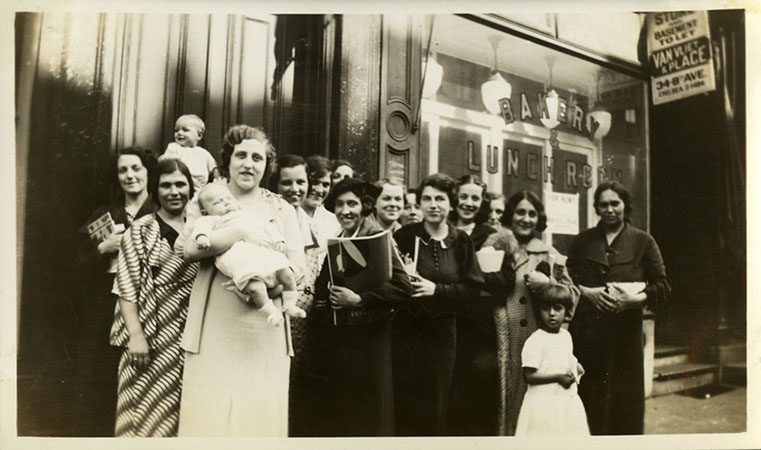 The Henry Street Visiting Nurse Service brought effective health care to immigrants in their homes and their communities
Greenwich Mothers' Club of the Henry Street Settlement, Lower East Side, New York City, ca. 1932
Courtesy National Library of Medicine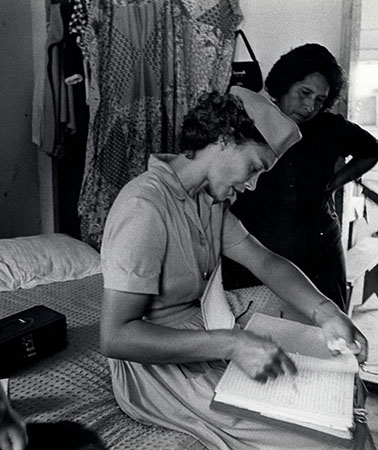 Health Aide Dorthy Press visits a migrant family in migrant workers' camp outside Nassawadox, Virginia, photograph by Janet Ochs for Public Health Service World, 1966
Courtesy National Library of Medicine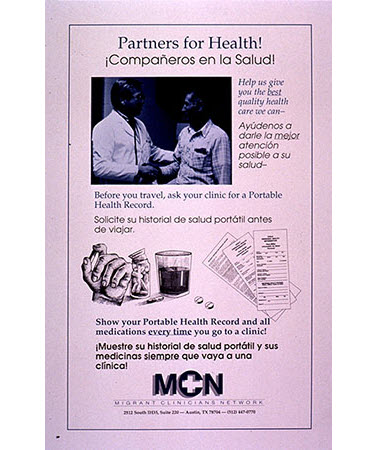 Migrant workers and their families, who live on the move, face many obstacles to obtaining care. In 1985, nurses and physicians dedicated to improving health care for migrant farmers formed the grassroots-based Migrant Clinicians Network.
Partners for Health: Compañeros En La Salud!, Migrant Clinicians Network, Austin, Texas, late 20th century
Courtesy National Library of Medicine

The Union Health Center was opened in 1913 by the International Ladies' Garment Workers' Union to serve its mostly Jewish and Italian immigrant membership. Like Henry Street, the UHC believed that workers' rights included a right to medical care and safe working conditions. It is still in operation today
Triennial Report: 1947–1949, Union Health Center, New York, ca. 1950
Courtesy National Library of Medicine
###

The National Library of Medicine (NLM) is a leader in research in biomedical informatics and data science and the world's largest biomedical library. NLM conducts and supports research in methods for recording, storing, retrieving, preserving, and communicating health information. NLM creates resources and tools that are used billions of times each year by millions of people to access and analyze molecular biology, biotechnology, toxicology, environmental health, and health services information. Additional information is available at https://www.nlm.nih.gov.
Last Reviewed: February 24, 2021