Teresa Zayas Cabán, PhD, Assistant Director for Policy Development, National Library of Medicine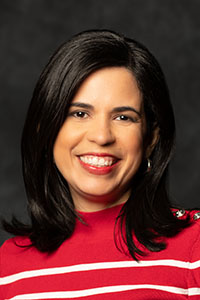 Title:
Assistant Director for Policy Development
Office:
National Library of Medicine
National Institutes of Health
Bldg. 38A, Room 4S415
8600 Rockville Pike
Bethesda, MD 20894

Telephone:
(301) 827-5236 (voice)


Dr. Teresa Zayas Cabán is Assistant Director for Policy Development at the National Library of Medicine (NLM). In this role she leads NLM's policy development and implementation activities.
Dr. Zayas Cabán was previously Chief Scientist at the Office of the National Coordinator for Health Information Technology (ONC) where she led ONC's scientific efforts and activities. In that role she developed, established, or recommended scientific policy to the National Coordinator, directed ONC's Precision Medicine Initiative activities, and provided oversight of ONC's patient-centered outcomes research projects.
Prior to her position at ONC, Dr. Zayas Cabán was the Chief of Health IT Research and Acting Director of the Division of Health IT at the Agency for Healthcare Research and Quality (AHRQ). While at AHRQ, she set new directions for their funding opportunities and coordinated with federal partners, such as the National Science Foundation.
Before joining AHRQ, she served as a post-doctoral trainee in the computation and informatics in biology and medicine program at the University of Wisconsin-Madison. Dr. Zayas Cabán obtained her doctorate in industrial and systems engineering at the University of Wisconsin-Madison where she was a National Science Foundation graduate research fellow in industrial engineering.
Last Reviewed: January 3, 2023