LinkOut Update: MLA 2008
A recording of the original presentation is available.
Slide 1

LinkOut Update
LinkOut Team
NCBI/NLM/NIH
Medical Library Association 2008
Chicago
Slide 2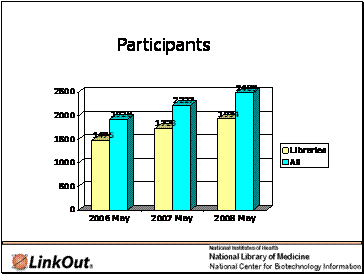 Participants
Graph shows an increase in participants from 2006 May to 2008 May.
In 2006: 1475 libraries and 1928 overall.
In 2008: 1934 libraries and 2405 overall.
Slide 3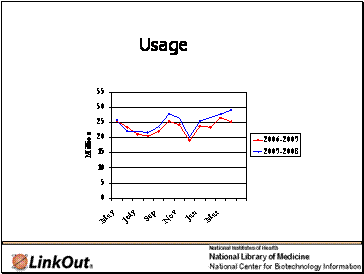 Usage
Graph showing usage showing increase from 2006-2007 and 2007-2008. Current average is about 29 million hits per month.
Slide 4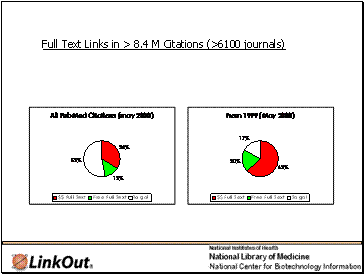 Full Text Links in > 8.4 M Citations (>6100 journals)
Slide 5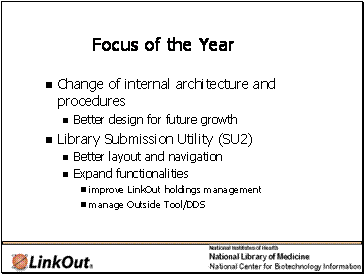 Focus of the Year
Change of internal architecture and procedures

Better design for future growth

Library Submission Utility (SU2)

Better layout and navigation
Expand functionalities

improve LinkOut holdings management
manage Outside Tool/DDS
Slide 6

Submission Utility – the New Look
Live on April 4.
Slide 7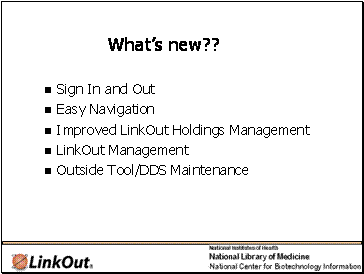 What's new??
Sign In and Out
Easy Navigation
Improved LinkOut Holdings Management
LinkOut Management
Outside Tool/DDS Maintenance
Slide 8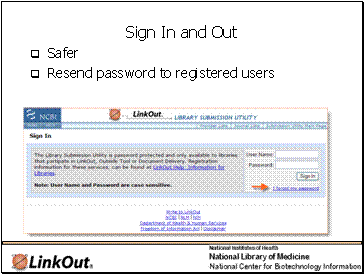 Sign In and Out
Safer
Resend password to registered users
Slide 9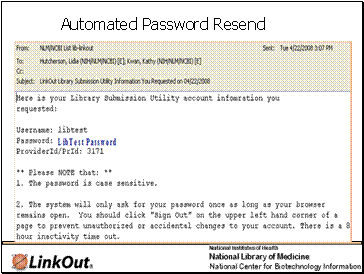 Automated password resend
Slide 10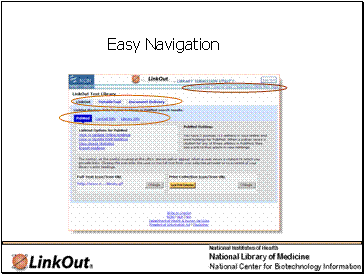 Easy Navigation
Slide 11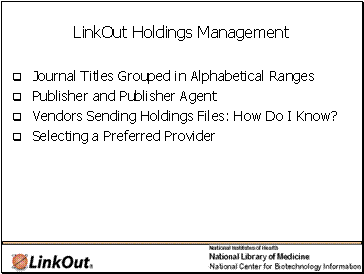 LinkOut Holdings Management
Journal Titles Grouped in Alphabetical Ranges
Publisher and Publisher Agent
Vendors Sending Holdings Files: How Do I Know?
Selecting a Preferred Provider
Slide 12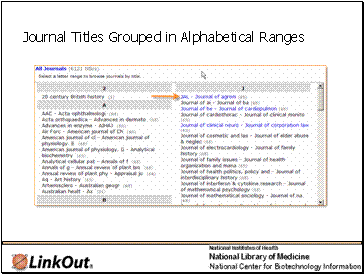 Journal Titles Grouped in Alphabetical Ranges
Slide 13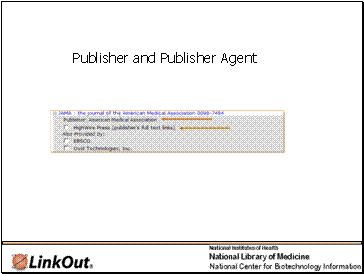 Publisher and Publisher Agent
Slide 14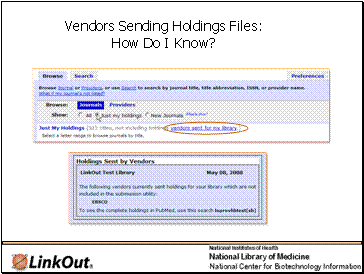 Vendors Sending Holdings Files: How Do I Know?
Go to Browse by Journals and Show Just my holdings
If a vendor is sending a file for your library you will see the this link: vendors sent for my library
Click on the link to see the name of the vendor
Use your filter loprovNameAbbrev[sb] to see all your holdings in PubMed
Example: loprovlibtest[sb]AND (neoplasms AND children)
Slide 15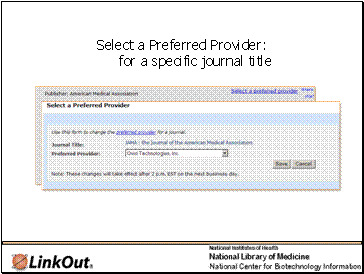 Select a Preferred Provider: for a specific journal title
Example: multiple providers for same journal, however, one provides more years>then state as preferred
Slide 16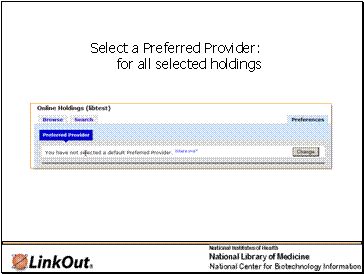 Select a Preferred Provider: for all selected holdings
Slide 17

LinkOut management
Contact and Library Information
Slide 18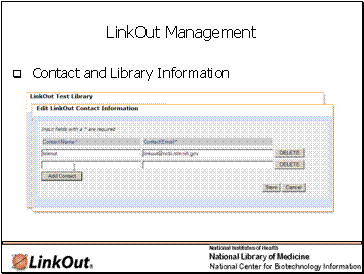 LinkOut management
Contact and Library Information
Slide 19

Exporting Holdings to a CSV or Text File
Data can be sorted by journal title/ISSN or provider
TIP!! Use Search PubMed for Library Holdings button to see all holdings with your icon directly in PubMed
Slide 20

Outside Tool & Document Delivery Service Maintenance
Contact Information
Manage:
Help Page URL
Label
Base URL
Help Page URL
visibility in MyNCBI
Icon
Three segments: administrative, LinkOut holdings maintenance and Outside Tool/DDS maintenance
Slide 21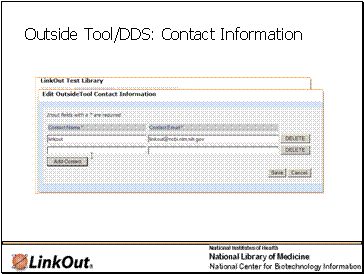 Outside Tool/DDS: Contact Information
Adding/Changing contact information.
Multiple contact fields can be added by clicking the "Add Contact" button
Slide 22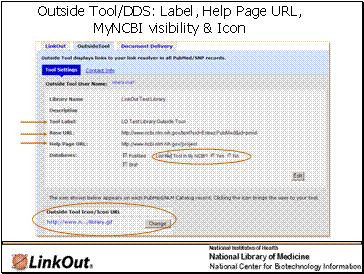 Outside Tool/DDS: Label, Help Page URL, MyNCBI visibility & Icon
Help page URL, Outside Tool label, icon and visibility in MyNCBI
Label>Up to 55 characters
Help Page> no intranet URLs or URLs behind a firewall
MyNCBI>Visible=yes private=no Keep PubMed checked whether public or private
Icon> URL must point to the icon file and not be behind a firewall. If uploading a file use only the formats: jpeg, gif or png
Last Reviewed: June 4, 2008