Manuscript submissions in support of the NIH Public Access Policy: MLA 2008
A recording of the original presentation is available.
Slide 1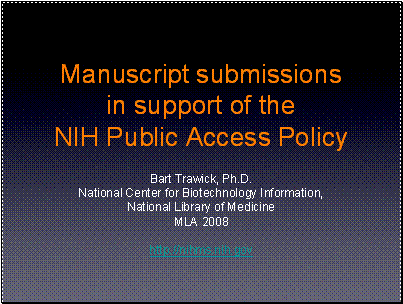 Manuscript submissions in support of the NIH Public Access Policy
Bart Trawick, Ph.D.
National Center for Biotechnology Information,
National Library of Medicine
MLA 2008
Slide 2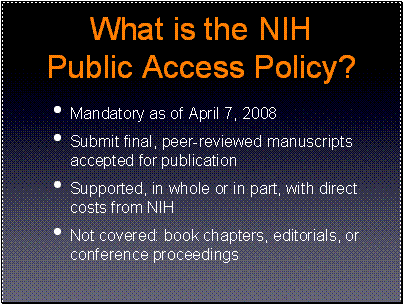 What is the NIH Public Access Policy?
Mandatory as of April 7, 2008
Submit final, peer-reviewed manuscripts accepted for publication
Supported, in whole or in part, with direct costs from NIH
Not covered: book chapters, editorials, or conference proceedings
Slide 3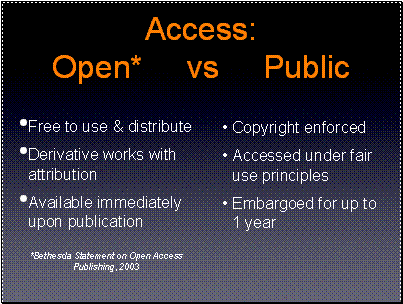 Access: Open* vs Public
Open
Free to use & distribute
Derivative works with attribution
Available immediately upon publication
Public
Copyright enforced
Accessed under fair use principles
Ebargoed for up to 1 year
Slide 4
PubMed
Indexed citations and abstracts
PubMed Central
Full-text journal articles with figures, PDFs and supplemental files
Slide 5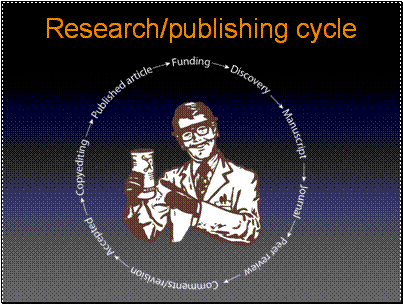 Research/publishing cycle
Slide 6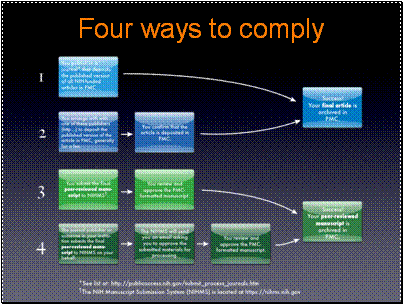 Four ways to comply
Slide 7
Submissions: PMC vs NIHMS
Slide 8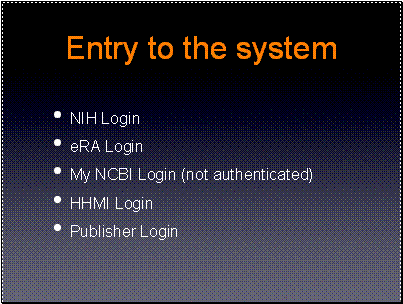 Entry to the system
NIH Login
eRA Login
My NCBI Login (not authenticated)
HHMI Login
Publisher Login
Slide 9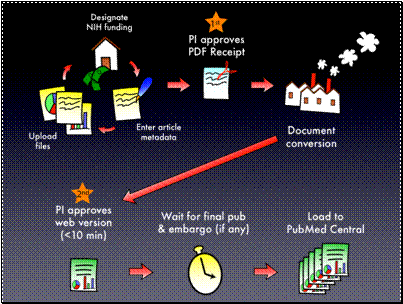 PubMed Central Process (1)
Slide 10
PubMed Central Process (2)
Slide 11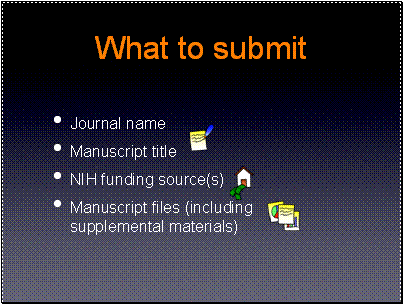 What to submit
Journal name
Manuscript title
NIH funding source(s)
Manuscript files (including supplemental materials)
Slide 12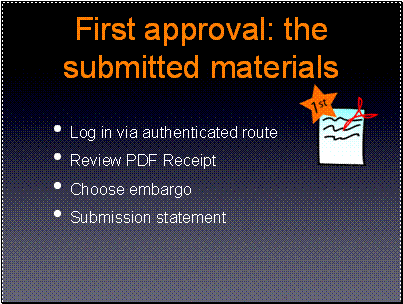 First approval: the submitted materials
Log in via authenticated route
Review PDF Receipt
Choose embargo
Submission statement
Slide 13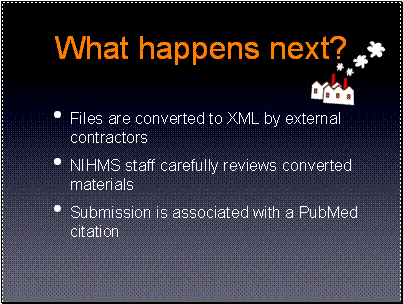 What happens next?
Files are converted to XML by external contractors
NIHMS staff carefully reviews converted materials
Submission is associated with a PubMed citation
Slide 14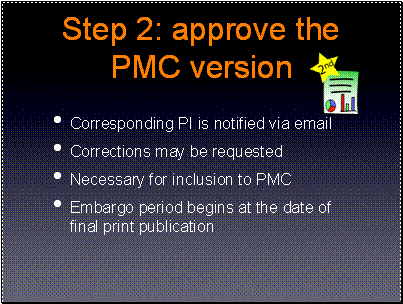 Step 2: approve the PMC version
Corresponding PI is notified via email
Corrections may be requested
Necessary for inclusion to PMC
Embargo period begins at the date of final print publication
Slide 15
Author Manuscripts in PubMed Central
author manuscript [filter]
Slide 16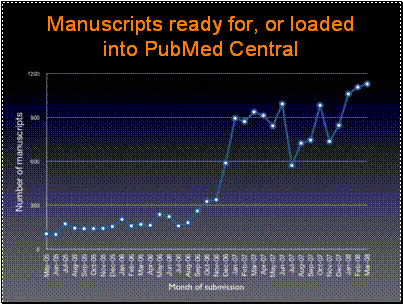 Manuscripts ready for, or loaded into PubMed Central
Slide 17
Help resources
Slide 18
Questions?
Last Reviewed: June 4, 2008