MLA 2008, Sunrise Seminar PowerPoint Presentation, David Gillikin
Slide 1
NLM Online Users' Meeting
May 19, 2008
David Gillikin
Chief, Bibliographic Service Division
National Library of Medicine
National Institutes of Health
Department of Health & Human Services
Slide 2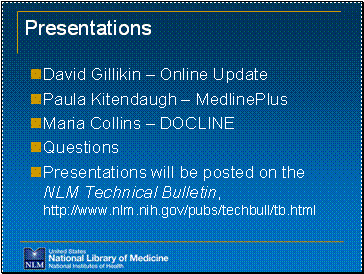 Presentations
David Gillikin – Online Update
Paula Kitendaugh – MedlinePlus
Maria Collins – DOCLINE
Questions
Presentations will be posted on the NLM Technical Bulletin, http://www.nlm.nih.gov/pubs/techbull/tb.html
Slide 3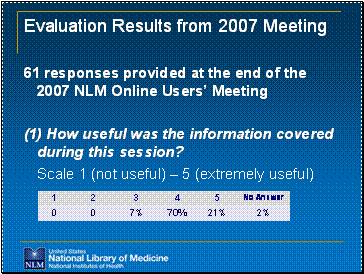 Evaluation Results from 2007 Meeting
61 responses provided at the end of the 2007 NLM Online Users' Meeting
(1) How useful was the information covered during this session?
Scale 1 (not useful) – 5 (extremely useful)
Slide 4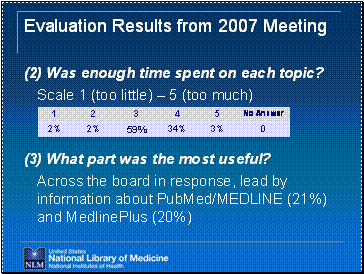 Evaluation Results from 2007 Meeting
(2) Was enough time spent on each topic?
Scale 1 (too little) – 5 (too much)

(3) What part was the most useful?
Across the board in response, lead by information about PubMed/MEDLINE (21%) and MedlinePlus (20%)
Slide 5
Evaluation Results from 2007 Meeting
(4) What part was the least useful?
Across the board in response, but the majority of users (39%) did not respond to this question.
There was no consistent agreement.
(5) Suggestions for improvements/additions.
45% did not respond.
Slide 6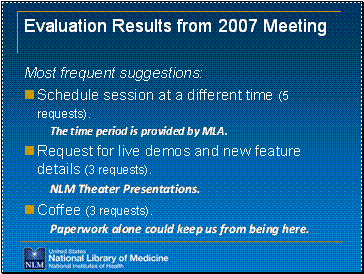 Evaluation Results from 2007 Meeting
Most frequent suggestions:
Schedule session at a different time (5 requests).

The time period is provided by MLA.

Request for live demos and new feature details (3 requests).

NLM Theater Presentations.

Coffee (3 requests).

Paperwork alone could keep us from being here.
Slide 7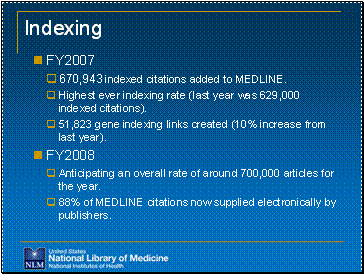 Indexing
FY2007

670,943 indexed citations added to MEDLINE.
Highest ever indexing rate (last year was 629,000 indexed citations).
>51,823 gene indexing links created (10% increase from last year).

FY2008

Anticipating an overall rate of around 700,000 articles for the year.
88% of MEDLINE citations now supplied electronically by publishers.
Slide 8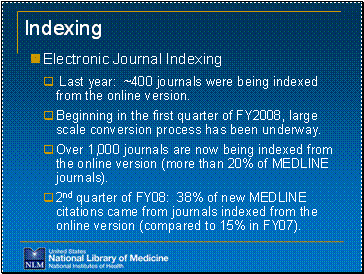 Indexing
Electronic Journal Indexing
Last year: approximately 400 journals were being indexed from the online version.
Beginning in the first quarter of FY2008, large scale conversion process has been underway.
Over 1,000 journals are now being indexed from the online version (more than 20% of MEDLINE journals).
2nd quarter of FY08: 38% of new MEDLINE citations came from journals indexed from the online version (compared to 15% in FY07).
Slide 9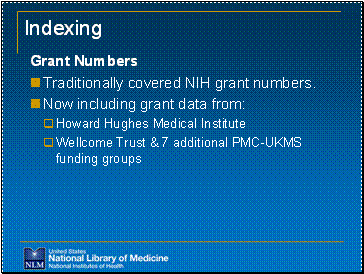 Grant Numbers
Traditionally covered NIH grant numbers.
Now including grant data from:

Howard Hughes Medical Institute
Wellcome Trust & 7 additional PMC-UKMS funding groups
Slide 10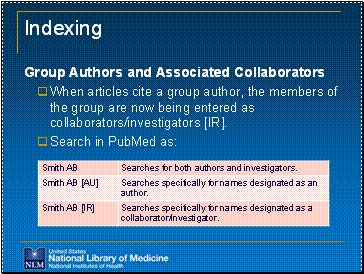 Indexing
Group Authors and Associated Collaborators
When articles cite a group author, the members of the group are now being entered as collaborators/investigators [IR].
Search in PubMed as:
Smith AB – searches for both authors and investigators
Smith AB [AU] – searches specifically for names designated as an author
Smith AB [IR] – searches specifically for names designated as a collaborator/investigator
Slide 11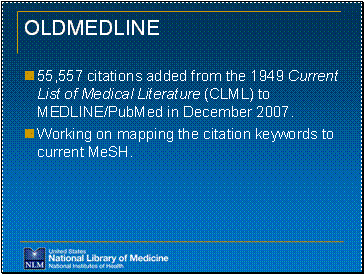 OLDMEDLINE
55,557 citations added from the 1949 Current List of Medical Literature (CLML) to MEDLINE/PubMed in December 2007.
Working on mapping the citation keywords to current MeSH.
Slide 12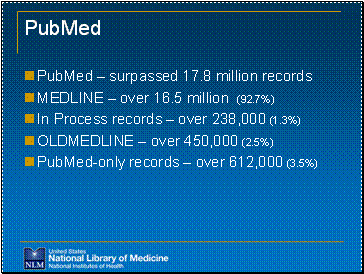 PubMed
PubMed – surpassed 17.8 million records
MEDLINE – over 16.5 million (92.7%)
In Process records – over 238,000 (1.3%)
OLDMEDLINE – over 450,000 (2.5%)
PubMed-only records – over 612,000 (3.5%)
Slide 13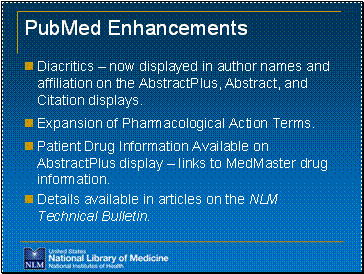 PubMed Enhancements
Diacritics – now displayed in author names and affiliation on the AbstractPlus, Abstract, and Citation displays.
Expansion of Pharmacological Action Terms.
Patient Drug Information Available on AbstractPlus display – links to MedMaster drug information.
Details available in articles on the NLM Technical Bulletin.
Slide 14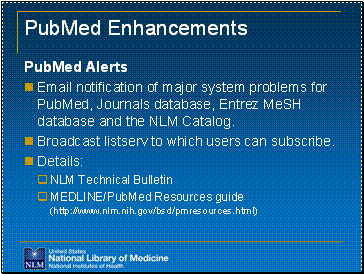 PubMed Enhancements
PubMed Alerts
Email notification of major system problems for PubMed, Journals database, Entrez MeSH database and the NLM Catalog.
Broadcast listserv to which users can subscribe.

Details:
NLM Technical Bulletin
MEDLINE/PubMed Resources guide (http://www.nlm.nih.gov/bsd/pmresources.html)
Slide 15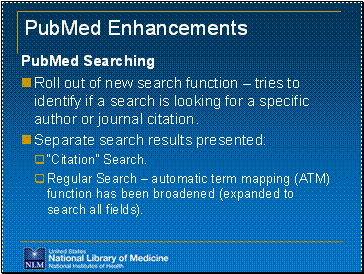 PubMed Enhancements
PubMed Searching
Roll out of new search function – tries to identify if a search is looking for a specific author or journal citation.
Separate search results presented:

"Citation" Search.
Regular Search – automatic term mapping (ATM) function has been broadened (expanded to search all fields).
Slide 16
PubMed screenshot
Slide 17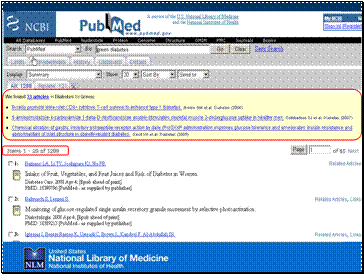 PubMed screenshot
Slide 18
PubMed Enhancements
Advance Search Screen

Beta launch page
Field Searching

Author
Journal Title
Publication Date
Other Fields

Limits Functionality
Slide 19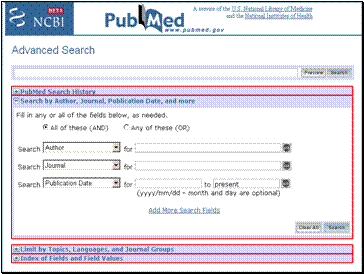 PubMed Advanced Search screenshot
Slide 20
Screenshot of PubMed Limits page
Slide 21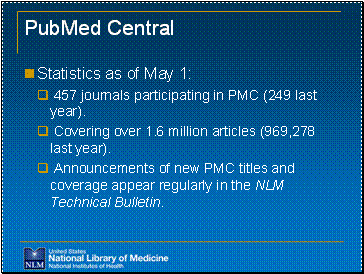 PubMed Central
Statistics as of May 1:

457 journals participating in PMC (249 last year).
Covering over 1.6 million articles (969,278 last year).
Announcements of new PMC titles and coverage appear regularly in the NLM Technical Bulletin.
Slide 22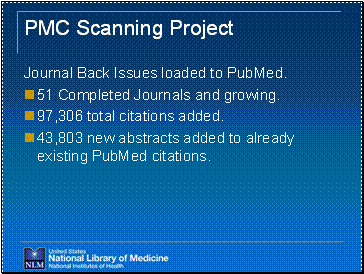 PMC Scanning Project
Journal Back Issues loaded to PubMed.
51 Completed Journals and growing.
97,306 total citations added.
43,803 new abstracts added to already existing PubMed citations.
Slide 23
3rd Party Back Issue Citations
Publisher requests to include their retrospective data.
Science Magazine – first test case.
Citation data loaded from 1880-2000.
93,744 new citations loaded.
8,705 new abstracts were added to already existing PubMed citations for Science.
Slide 24
LinkOut
6,199 journals with LinkOut links (5,772 reported last year)
Activity: 27 million hits/month; 1.2million per work day
PubMed Citations:

46.7% have full text links.
13.1% have free full text links.

PubMed citations from 1999 on:

83.4% have full text links.
19.7% have free full text links.

LinkOut for Libraries program

1,934 Libraries participating as of May 1.
491 Libraries participating in Outside tool.
Slide 25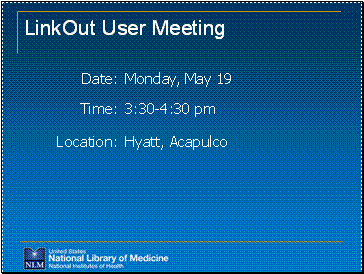 LinkOut User Meeting
Slide 26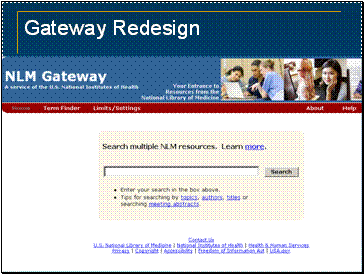 Gateway Redesign
Slide 27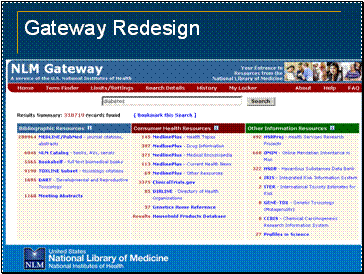 Gateway Redesign
Slide 28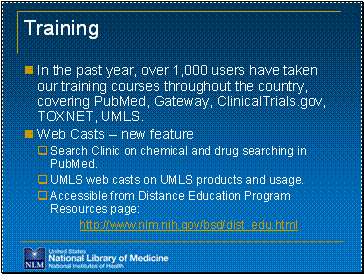 Training
In the past year, over 1,000 users have taken our training courses throughout the country, covering PubMed, Gateway, ClinicalTrials.gov, TOXNET, UMLS.
Web Casts – new feature

Search Clinic on chemical and drug searching in PubMed.
UMLS web casts on UMLS products and usage.
Accessible from Distance Education Program Resources page:
http://www.nlm.nih.gov/bsd/dist_edu.html
Slide 29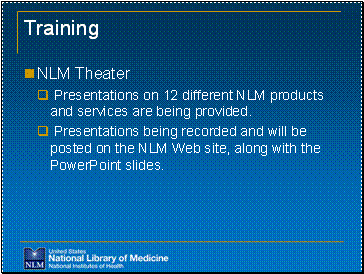 Training
NLM Theater
Presentations on 12 different NLM products and services are being provided.
Presentations being recorded and will be posted on the NLM Web site, along with the PowerPoint slides
Slide 30
NLM Technical Bulletin
Usage

Average of 542 visits/day
Nearly 1,160 page views/day

Redesign of Table of Contents - elimination of Tech Notes for easier linking and indexing.
New search engine later this year.
Sign-up for weekly NLM Announces email or for the RSS feed of the Technical Bulletin.
Slide 31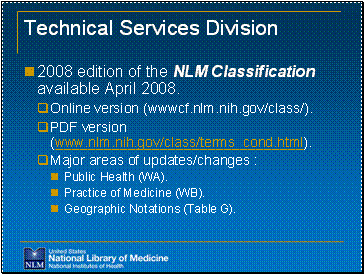 Technical Services Division
2008 edition of the NLM Classification available April 2008.

Online version (wwwcf.nlm.nih.gov/class/).
PDF version (www.nlm.nih.gov/class/terms_cond.html).
Major areas of updates/changes:

Public Health (WA).
Practice of Medicine (WB).
Geographic Notations (Table G).
Slide 32
Data Distribution
Data distribution program continues to grow, with research areas in academics, biotech, and software development companies leading the way.
Over 472 licensees in FY2007:

439 are licensing MEDLINE.
176 are non-USA licensees.
320 are using the data for research purposes.
Slide 33
Unified Medical Language System (UMLS)
UMLS Releases:
3 UMLS releases in 2007:

2007AA released January 16.
2007AB released July 2.
2007AC released November 11.

2 releases planned for 2008:

2008AA released April 1.
2008AB planned for November.

Licensing:

3,049 licensees in FY2007.
Slide 34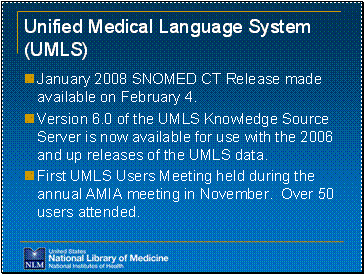 Unified Medical Language System (UMLS)
January 2008 SNOMED CT Release made available on February 4.
Version 6.0 of the UMLS Knowledge Source Server is now available for use with the 2006 and up releases of the UMLS data.
First UMLS Users Meeting held during the annual AMIA meeting in November. Over 50 users attended.
Slide 35
DailyMed
http://dailymed.nlm.nih.gov/
Provides high quality information about marketed drugs, including FDA approved labels (package inserts).
3,856 approved prescription drugs included.
Once a label is released by the FDA, it is included in DailyMed within 2 hours.
Over 65,000 RSS subscribers.
Slide 36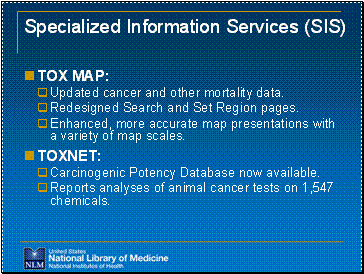 Specialized Information Services (SIS)
TOX MAP:

Updated cancer and other mortality data.
Redesigned Search and Set Region pages.
Enhanced, more accurate map presentations with a variety of map scales.

TOXNET:

Carcinogenic Potency Database now available.
Reports analyses of animal cancer tests on 1,547 chemicals.
Slide 37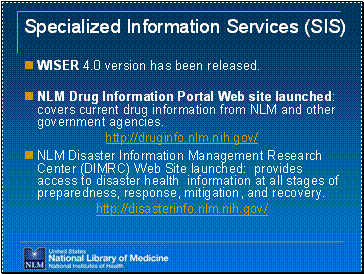 Specialized Information Services (SIS)
WISER 4.0 version has been released.
NLM Drug Information Portal Web site launched: covers current drug information from NLM and other government agencies.
http://druginfo.nlm.nih.gov/
NLM Disaster Information Management Research Center (DIMRC) Web Site launched: provides access to disaster health information at all stages of preparedness, response, mitigation, and recovery.
http://disasterinfo.nlm.nih.gov/
Slide 38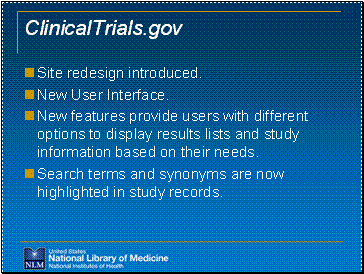 ClinicalTrials.gov
Site redesign introduced.
New User Interface.
New features provide users with different options to display results lists and study information based on their needs.
Search terms and synonyms are now highlighted in study records.
Slide 39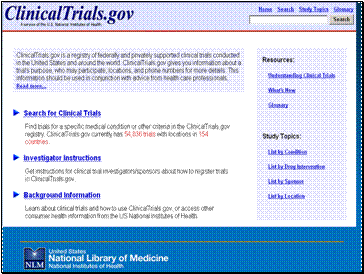 Screenshot of ClinicalTrials.gov
Slide 40
Screenshot of ClinicalTrials.gov
Slide 41
Screenshot of ClinicalTrials.gov
Slide 42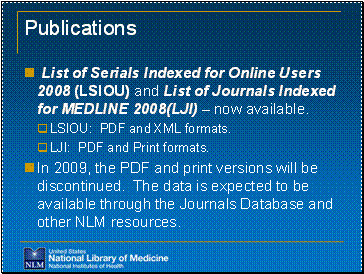 Publications
List of Serials Indexed for Online Users 2008 (LSIOU) and List of Journals Indexed for MEDLINE 2008(LJI) – now available.

LSIOU: PDF and XML formats.
LJI: PDF and Print formats.

In 2009, the PDF and print versions will be discontinued. The data is expected to be available through the Journals Database and other NLM resources.
Slide 43
NIH Public Access Policy
Mandatory for NIH grantees
http://PublicAccess.nih.gov
MLA Open Forum, Tuesday May 20
Public Access – NIH policy
Open Access – copyright ownership
PubMed Central – public archive
Slide 44
Thank you!
Please stop by the NLM booth for additional information, the NLM Theater presentations, and to give us your feedback.