MLA 2009: Online Users' Meeting, Speaker: David Gillikin
Slide 1
NLM Online Users' Meeting
May 18, 2009
David Gillikin
Chief, Bibliographic Service Division
National Library of Medicine
National Institutes of Health
Department of Health & Human Services
Slide 2
Presentations
David Gillikin - Online Update
Paula Kitendaugh - MedlinePlus
Maria Collins - DOCLINE
Questions
Presentations will be posted on the NLM Technical Bulletin
Slide 3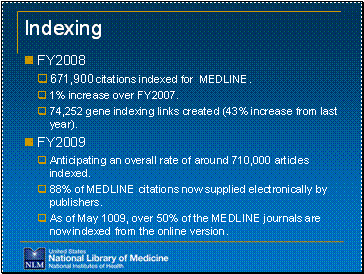 Indexing
FY2008

671,900 citations indexed for MEDLINE.
1% increase over FY2007.
74,252 gene indexing links created (43% increase from last year).

FY2009

Anticipating an overall rate of around 710,000 articles indexed.
88% of MEDLINE citations now supplied electronically by publishers.
As of May 2009, over 50% of the MEDLINE journals are now indexed from the online version.
Slide 4
OLDMEDLINE Data
Over 70,000 citations added from the 1948 Current List of Medical Literature CLML to MEDLINE/PubMed.
Working on mapping the citation keywords for the 1948 CLML citations to current MeSH.
In progress: converting entries from the 1947. CLML
Slide 5
PubMed Enhancements
Many enhancements in the past year:

Title first display on search summary page.
Advanced Search moved out of Beta and enhanced.
My NCBI enhancements.

NLM Theater Presentations - details on these and other enhancements already available.
Preview of PubMed Redesign underway by NCBI.
Slide 6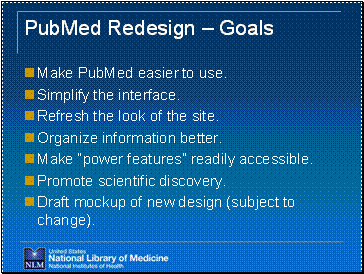 PubMed Redesign - Goals
Make PubMed easier to use.
Simplify the interface.
Refresh the look of the site.
Organize information better.
Make "power features" readily accessible.
Promote scientific discover.
Draft mockup of new design (subject to change).
Slide 7
Current 2009 PubMed design for the search results page.
Slide 8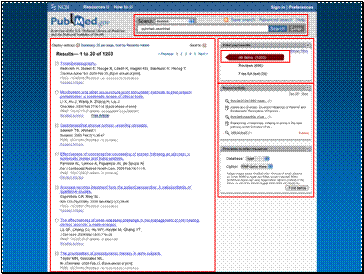 Prototype re-design for PubMed search summary display.
Slide 9
Prototype redesign of PubMed summary results, with the review filter selected.
Slide 10
Prototype of redesign of PubMed Abstract Display view.
Slide 11
Prototype Redesign of Abstract display with expansion of metadata.
Slide 12
Prototype Redesign of PubMed search result page with Limits message and Gene Sensor message.
Slide 13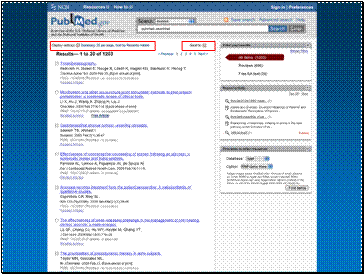 Prototype re-design for PubMed search summary display.
Slide 14
Prototype redesign of PubMed summary display, showing Display Setting control panel.
Slide 15
Prototype redesign of PubMed summary display, showing Send To control panel.
Slide 16
Prototype redesign of PubMed summary display, showing Display Setting control panel with expanded E-mail entry and control functions.
Slide 17
PubMed Redesign: Summary
The final design is still under development.
Functions are not changing, only how they are presented.
Anticipated launch: Summer 2009
Slide 18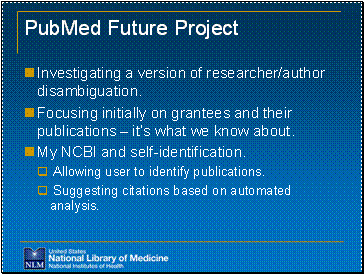 PubMed Future Project
Investigating a version of researcher/author disambiguation.
Focusing initially on grantees and their publications — it's what we know about.
My NCBI and self-identification.

Allowing user to identify publications.
Suggesting citations based on automated analysis.
Slide 19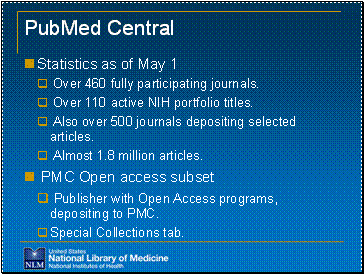 PubMed Central
Statistics as of May 1

Over 460 fully participating journals.
Over 110 active NIH portfolio titles.
Also over 500 journals depositing selected articles.
Almost 1.8 million articles.

PMC Open Access subset

Publisher with Open Access programs, depositing to PMC.
Special Collections tab.
Slide 20
PubMed Central list of journals, and Special Collections option.
Slide 21
PMC Open Access Subset includes articles from a number of publishers' programs, each of which deposits selected articles from a range of journals. The Special Collections tab is a complete list of the publishers programs that deposit to PMC.
Slide 22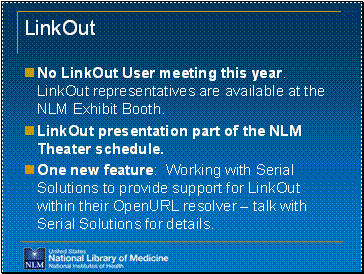 LinkOut
No LinkOut User meeting this year.
LinkOut representatives are available at the NLM Exhibit booth.
LinkOut presentation part of the NLM Theater schedule.
One new feature:
Working with Serial Solutions to provide support for LinkOut within their OpenURL resolver — talk with Serial Solutions for details.
Slide 23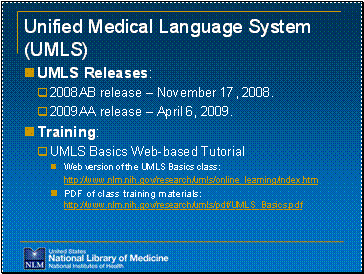 Unified Medical Language System (UMLS)
UMLS Releases:

2008AB release — November 17, 2008
2009AA release — April 6, 2009

Training:

UMLS Basics Web-based Tutorial

Web version of the UMLS Basics class
Slide 24
Specialized Information Services
NLM Theater presentation on product updates.
WISER 4.2 version has been released.
NLM Drug Information Portal Web site launched: covers current drug information from NLM and other government agencies.
//druginfo.nlm.nih.gov/
NLM Disaster Information Management Research Center (DIMRC) Web Site launched: provides access to disaster health information at all stages of preparedness, response, mitigation, and recovery.
//disasterinfo.nlm.nih.gov
Slide 25
Specialised Information Services
TOXMAP:

Updated cancer and other mortality data.
Redesigned Search and Set Region pages.
Enhanced, more accurate map presentations with a variety of map scales

TOXNET:

Carcinogenic Potency Database now available.
Reports analyses of animal cancer tests on 1,547 chemicals.
Slide 26
ClinicalTrials.gov
Basic Results data now available.
Congressionally mandated reporting requirement.
NLM Theater presentation with details.
Options for locating results.

Search Results labeled with "Has Results."
Advance search limit "has results" option.
Study Results tab in actual study.
Slide 27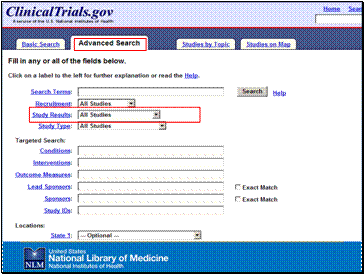 ClinicalTrials.gov Advance Search page, showing the Study Results option.
Slide 28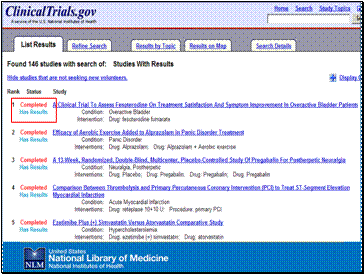 ClinicalTrials.gov Search results list, showing the "has results" caption.
Slide 29
ClincialTrials.gov Study screen, highlighting the Study Results Tab.
Slide 30
DailyMed: Product Identification System.
Slide 31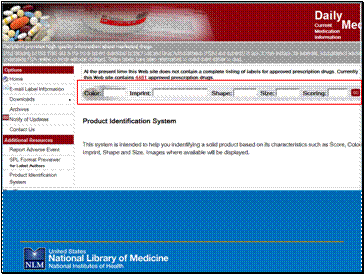 DailyMed: Product Identification System
Slide 32
NIH Public Access Policy
Omnibus Appropriations Act of 2009 made the NIH Public Access Policy permanent.

"...shall require in the current fiscal year and thereafter..."
Ensures that the policy persists, instead of potentially requiring an annual renewal.

MLA Open Forum, Tuesday May 19, 7:30 am.
Slide 33
Thank you!
Please stop by the NLM booth for additional information, the NLM Theater presentations, and to give us your feedback.
Last Reviewed: June 15, 2009