Value Set Usage Summary for Authors and Stewards
Value set stewards and authors can determine their value set's usage by the number of times users have downloaded a value set or have requested a value set through the API during a specified time period.
Value set stewards and authors can generate a report that includes the number of times users have:
downloaded a value set individually,
downloaded a value set as part of a program release bulk package (eCQM or C-CDA),
performed API calls to retrieve a value set.
Prerequisite: The user needs to be a member of the value set's author or steward group in order to view usage information. For example, to see the usage summary of value set OID 2.16.840.1.113883.3.464.1003.1161, the user needs to belong to NCQA PHEMUR group.
View Value Set Usage Summary
In the Metadata tab of the value set, in Authoring, there is a button labeled "Usage Summary" that is visible only for authors and stewards of that value set. Click on the Usage Summary button to open a pop-up window.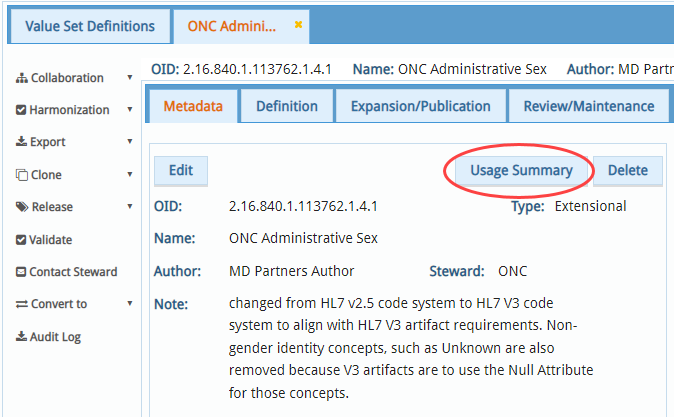 In the Usage Summary pop-up window, the author or steward can either choose the pre-calculated "Past Year" or "Lifetime" buttons, or they can specify a time period for which they want to see usage statistics for their value set, and then click the Submit button. VSAC displays the following usage summary for the value set during the specified time period:

Number of individual downloads
Number of downloads as a part of bulk package from a program release (eCQM, or C-CDA)
Number of API calls for the given value set
We define a value set's lifetime as of the creation date of its first definition version. This method includes counts of draft version usage as well as published expansion usage.
Download Value Set Usage Report
Click the Download Value Set Usage Report button to generate an Excel spreadsheet.
The Excel spreadsheet contains the following value set information:

Value Set Name, Value Set OID, Code System, Type, Steward & Author
Usage Summary section
How Value Set Usage Counts Increase
Individual value set downloads

'Download' in 'Search Value Sets'

'Export Value Set Results' in Search Value Sets 'Value Set Details'
'Download Excel' in Authoring → My Value Set Definitions, or, Authoring → Search All Value Set Definitions

Bulk Download: Applies to a value set in downloadable files of a program release (eCQM or C-CDA). The bulk download count increases when a user downloads a program release file that contains the value set. For example: 2.16.840.1.113883.3.526.3.1489 is in 'eCQM Update 2022-05-05' and belongs to 'Eligible Clinicians' quality program. Clicking any buttons circled red in the picture below triggers a 'Bulk Download' increase for 2.16.840.1.113883.3.526.3.1489.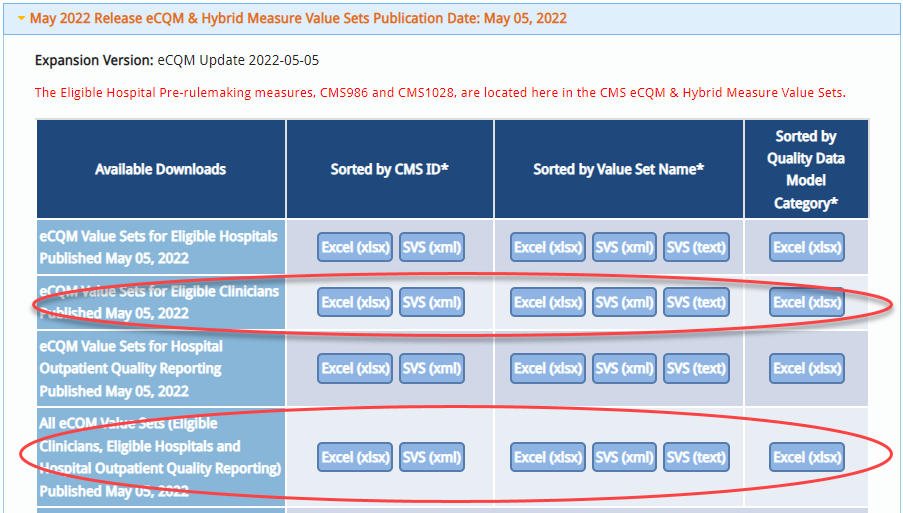 Please note: VSAC increases the download count if the user's download request is successful. If a user generates a downloaded file but the user chooses to 'Cancel' it, VSAC still counts the download action as a legitimate request and increases the download count.
SVS API calls
FHIR API calls
For example: VSAC increases the value set's SVS API counts for any parameter variation of the following SVS API calls:
https://vsac.nlm.nih.gov/vsac/svs/RetrieveValueSet?id={oid}
or
https://vsac.nlm.nih.gov/vsac/svs/RetrieveMultipleValueSets?id={oid}

Last Reviewed: December 13, 2022