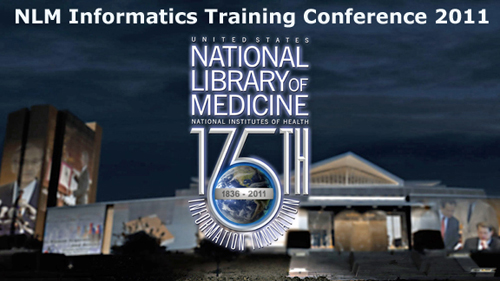 NLM Informatics Training Conference 2011
National Library of Medicine and the
NIH Natcher Center
Bethesda, MD
June 28–30, 2011
The conference was hosted on the NIH Campus as part of the NLM 175th Anniversary celebrations. Conference attendees included trainees and faculty from all 18 of the NLM Biomedical Informatics Research Training Programs, NLM intramural trainees, and NIH staff.
175th Anniversary Informatics Careers Panel
On the final day of the Conference, 6 graduates of NLM Biomedical Informatics Research Training Programs discussed their research and their careers paths in informatics. Panel moderator Ted Shortliffe, President and CEO of the American Medical Informatics Association and a former training director at two different NLM training programs, provided a long view of informatics training in the US.
From left to right:Atul Butte, Stanford University; John Glaser, Siemens Healthcare; Xinghua Lu, University of Pittsburgh; Hong Yu, University of Wisconsin-Milwaukee; Ted Shortliffe, AMIA (moderator); Joan Ash, OHSU; and Jim Cimino, NIH Clinical Center.
NLM 2011 Informatics Training Conference Awards
Best Presentation
June 28, 2011
Ryan Rochat
Baylor College of Medicine
Zernike Phase Contrast Cryo-EM Reveals the Portal Complex in Herpes Virus
Plenary Paper Session #2
Abstract:
Herpes simplex viruses cause some of the oldest documented human diseases, with descriptions of the infections dating back more than 5000 years. While de novoatomic-resolution structural studies of icosahedrally arranged viral proteins, like the herpes simplex virus type 1 (HSV-1) capsid, have become routine in cryo-electron microscopy (cryo-EM), resolving the non-icosahedral components of these viruses (e.g. the genome packaging apparatus) is non-trivial. Read more

Ryan Rochat
June 29, 2011
Vincent Fusaro
Harvard Medical School
Designing Effective Clinical Trials Using Simulations
Parallel Papers Focus Session B3
Abstract:
Randomized clinical trials are unsustainable in the era of personalized medicine due to the exponential number of combinations related to dosing, PK-PD response, demographic, phenotypic, and genomic information necessary for evaluating personalized treatment options. In order to realize the potential of personalized drug treatment new innovative high-impact computational strategies are needed to simulate outcomes of potential clinical trial designs in order to suggest those likely to succeed and avoid those likely to fail. Read more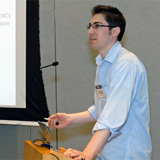 Vincent Fusaro
Best Poster
June 28, 2011
Daniel Newkirk
University of California, Irvine
Mechanisms of Cohesion in Transcriptional Regulation of Nipbl (+/-) Mice
Poster Session Topic 3 - Bioinformatics
Abstract:
Cohesin is an essential complex required for sister chromatid cohesion and chromosome segregation in mitosis. However, mutations of the cohesin loading factor Nipbl and cohesin subunits were found to cause the human developmental disorder Cornelia de Lange Syndrome (CdLS), strongly suggesting a critical role of cohesin in developmental gene regulation. Read more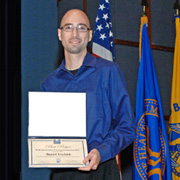 Daniel Newkirk
June 29, 2011
Matthew Kayala
University of California, Irvine
Learning to Predict Chemical Reactions
Poster Session Topic 4 - Bioinformatics
Abstract:
Predicting the course of chemical reactions is essential to the practice of organic chemistry, with applications ranging from improving drug synthesis to understanding the origin of life. Previous computational approaches are not high-throughput, are not generalizable or scalable, or lack sufficient data. Read more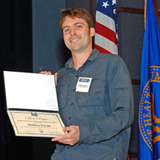 Matthew Kayala
Best Open Mic
June 29, 2011
Robert Bruggner
Stanford University
Automated Identification of Predictive Cell Populations from High-Dimensional Mass Cytometry Data
Open Mic Session #X2 - Bioinformatics & Translational Informatics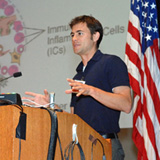 Robert Bruggner
Last Reviewed: September 24, 2014