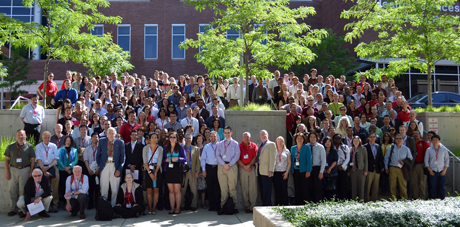 2013 NLM Training Conference Participants
NLM Informatics Training Conference 2013
National Library of Medicine and the University of Utah
Salt Lake City, UT
June 18–19, 2013
The 2013 NLM Informatics Training Conference was hosted by the University of Utah on June 18-19, 2013 in Salt lake City, Utah. Conference attendees included trainees and faculty from the NLM Biomedical Informatics Research Training Programs, VA informatics trainees, NLM intramural trainees, NIH staff, and guests.
Best Presentations
June 18, 2013
Jeremy Weiss
University of Wisconsin-Madison
Multiplicative-Forest Continuous-Time Disease Prediction from EHRs
Plenary Paper Session 1
Abstract:
Accurate prediction of future onset of disease from Electronic Health Records (EHRs) has important clinical and economic implications. In this domain the arrival of data comes at semi-irregular intervals and makes the prediction task challenging. Continuous-time Bayesian networks effectively model such processes but are limited by the number of conditional intensity matrices, which grows exponentially in the number of parents per variable. We develop a partition-based representation using regression trees and forests whose parameter spaces grow linearly in the number of node splits. Using a multiplicative assumption we show how to update the forest likelihood in closed form, producing efficient model updates. Our results show multiplicative forests can be learned from few temporal trajectories with large gains in performance and scalability particularly when risk factors are known to be independent, or multiplicative in nature. We apply the multiplicative-forest idea to EHR data and show that it improves our ability to predict the future onset of disease.

Jeremy Weiss
Abstract:
To demonstrate the importance of explicit definitions of electronic health record (EHR) data completeness and how different conceptualizations of completeness may impact findings from EHR-derived datasets. We derived four prototypical definitions of EHR data completeness from the literature on EHR data quality: documentation, breadth, density, and predictive completeness. Each definition dictated a different method of assessing completeness. These methods were computationally applied to representative data including visit information, diagnoses, narrative notes, laboratory results, medication orders, and basic demographic information from New York - Presbyterian Hospital's clinical data warehouse. This study may have important repercussions for researchers and clinicians engaged in the secondary use of EHR data. The maximum percentage of complete records ranged from 18.5% to 55.4%, depending upon the definition of completeness used. According to any definition, no more than approximately half of records could be considered complete. The proportion that met criteria for completeness was heavily dependent on the definition of completeness used, which is determined by the research task at hand. Lastly, different subsets of records were selected for different goals. We urge data consumers to be explicit in how they define a complete record and transparent about the limitations of their data.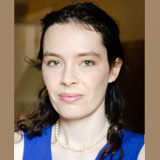 Nicole Weiskopf
Best Poster
June 18, 2013
Janet Woollen
Columbia University
Engaging Hospitalized Patients with an Inpatient Personal Health Record
Poster Session Topic 1 - Health Care and Public health
Abstract:
Engaged patients have better health outcomes; however, patient engagement is often poorly addressed in the hospital. An inpatient personal health record (PHR) may improve patient engagement. The objectives of this research were (1) to explore hospitalized patients' information needs and (2) to assess such patients' usage and perceptions of usefulness of an inpatient PHR for enhancing engagement. We observed twenty post-cardiothoracic surgery patients using tablet computers with access to an inpatient PHR. Semi-structured interviews were conducted and audio-recorded by the research team and transcribed, coded, and analyzed for emerging themes. The survey data were analyzed using descriptive statistics. Fourteen out of the 20 patients used the inpatient PHR and completed the interview. All patients who used the PHR responded favorably to having access to their clinical data. Engagement, empowerment, and information needs emerged as major themes. Patients reported a desire to view diagnoses, labs, radiology reports, progress notes, and procedure notes, during and after hospital stay. Patients found medication information and links to educational materials especially helpful. An inpatient PHR can be useful for increasing patient engagement and identifying and addressing patients' information needs. We plan to follow up with a larger study in the future.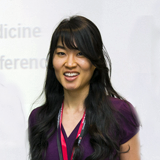 Janet Woollen
June 19, 2013
Meagan Whaley
Rice University
Inferring Functional Human Language Pathways
Abstract:
This ongoing research is providing insight about fundamental networks involved in human language processes by applying a statistical method to time series data recorded from intracranial electrodes implanted in human subjects. Language processes involve networks of neurons sending and receiving information through convoluted systems of fiber pathways distributed throughout the cortex, and due to the unavailability of temporally and spatially precise clinical data, understanding these functional pathways has proven to be a fundamental problem in medical and biological research. This work applied a well-developed, adaptable statistical tool, Granger Causality, to hundreds of time series recordings taken directly from the cortex (electrocorticography or ECoG) of human subjects while they participated in a verb completion task. Granger Causality was used to analyze the precise ECoG data by delivering intelligible results illustrating the direction and relative magnitude of interactions that occurred between time series over periods of time and at specific frequency values. These results are interpreted as indicating how and when the brain regions located underneath the electrodes interact during precise stages of language processes, and thus far, they have been consistent with modern language theory. This project is supported in part by the NLM Training Program in Biomedical Informatics T15LM007093.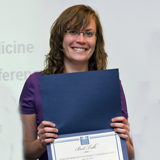 Meagan Whaley
Best Open Mic
June 18, 2013
Jacques Zaneveld
Rice University
LRP6 May Cause a Novel Human Developmental Disease

Jacques Zaneveld
Last Reviewed: December 11, 2020