NLM 2017 Informatics Training Conference
The 2017 NLM Informatics Training Conference was hosted by the University of Califorina San Diego on June 5-6, 2017 in La Jolla, CA. Conference attendees included trainees and faculty from the NLM Biomedical Informatics Research Training Programs, Department of Veterans Affairs informatics trainees, NLM intramural trainees, NIH staff, and guests.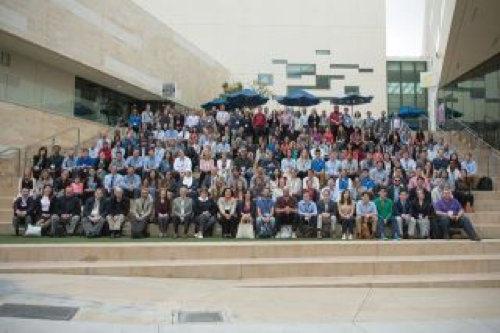 2017 NLM Training Conference Participants
June 5-6 at the University of California San Diego
NLM 2017 Informatics Training Conference Awards
Best Presentations
June 5th - Day 1
Andrew Chiang
Columbia University
Correlates of Cognitive Phenotype Severity in Autism Spectrum Disorders
Abstract: An important goal of genetic research is to understand the phenotypic consequences of diverse genetic mutations. However, progress towards this goal is difficult for common disorders with complex phenotypes, such as cognitive phenotypes in autism spectrum disorders (ASDs).
We analyzed de novo likely gene-disrupting (LGD) mutations identified in ASD probands from the Simons Simplex Collection. Specifically, we explored correlations between molecular and genetic properties of these mutations and cognitive phenotypes in affected probands, measured by intellectual quotients (IQ).
To explore the generality of our findings, we analyzed genomic and transcriptomic data across multiple human tissues, obtained from the GTEx consortium, and asked whether relationships could be found between properties of LGD variants and their effects on gene expression.
Surprisingly, we found that LGD mutations in the same gene often resulted in different phenotypes. However, we also identified properties of mutations that appear to correlate with phenotypic severity. Furthermore, these patterns were reproducible in gene expression studies across multiple human tissues, suggesting that the findings may be general.
Our results suggest that large cohort sequencing could achieve clinically useful predictions of cognitive phenotypes in ASDs. Also, similar patterns may be observed in other diseases with substantial contributions from de novo mutations.

A. Chiang
June 6th - Day 2
Matthew Bernstein
University of Wisconsin-Madison
MetaSRA: Normalized Sample-Specific Metadata for the Sequence Read Archive
Abstract: Motivation: The NCBI's Sequence Read Archive (SRA) promises great biological insight if one could analyze the data in the aggregate; however, the data remain largely underutilized, in part, due to the poor structure of the metadata associated with each sample. The rules governing submissions to the SRA do not dictate a standardized set of terms that should be used to describe the biological samples from which the sequencing data are derived. As a result, the metadata include many synonyms, spelling variants, and references to outside sources of information. Furthermore, manual annotation of the data remains intractable due to the large number of samples in the archive. For these reasons, it has been difficult to perform large-scale analyses that study the relationships between biomolecular processes and phenotype across diverse diseases, tissues, and cell types present in the SRA.

M. Bernstein
Best Poster
Day 1 - Bioinformatics/Computational Biology Poster Session
Stephen Wilson
Baylor College of Medicine
MeTeOR: Literature-Based Hypotheses Generation and Precision Medicine
Abstract: With over twenty-four million articles and an exponential growth rate, it has become difficult to stay abreast of the PubMed literature. To address this problem, we have created a novel biological network that aggregates data from millions of PubMed articles. This network, called MeTeOR (MeSH Term Objective Reasoning network), converts manually curated MeSH terms that tag PubMed articles into a global, structured summary of biological information for data-driven discovery. When compared to the current knowledge representations in many standard curated databases regarding associations among genes, drugs, and diseases, MeTeOR contains both confirmatory as well as novel information. Furthermore, when a hypotheses-generating algorithm is applied to the MeTeOR network, it suggests new potential disease or drug associations for most genes. In the most realistic test of performance—a time-stamped analysis, hypotheses generated from a MeTeOR network based on the literature prior to 2014, were shown to have significant predictive power for discoveries that were published after 2014. These data support MeTeOR as a promising representation of the biomedical literature, that may provide ready access to high-quality information about the relationships linking genes, drugs, and diseases, and also that support novel hypotheses towards systems analysis and precision medicine.

S. Wilson
Best Open Mics
June 5th - Translational Bioinformatics and Clinical Research Informatics (Session X1)
Tiffany Callahan
University of Colorado-Denver
OWL-NETS: Abstracting OWL for Network Inference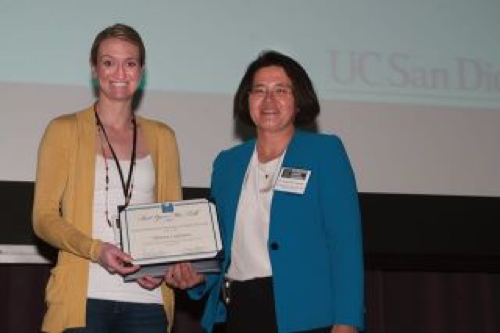 T. Callahan
June 6th - Healthcare and Public Health Informatics (Session X2)
Kristen Browne
National Library of Medicine
An Open-Source Library of Medical-Imaging-Derived 3D Polygonal Models for use in Public Health, Medical and STEM Applications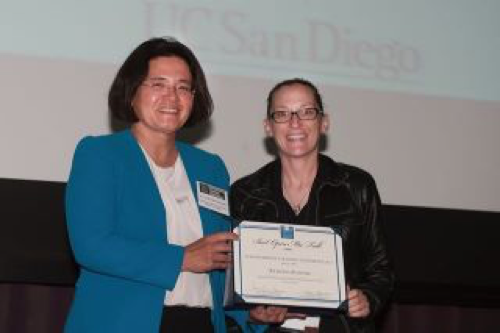 K. Browne
Last Reviewed: September 22, 2017