---
The 20th Century Threat
Despite a dramatic decline in smallpox during the nineteenth century, the disease still posed a threat at the beginning of the twentieth century. Expanding trade networks as well as the rise of immigration and leisure travel meant that smallpox could spread more easily and more rapidly than ever before.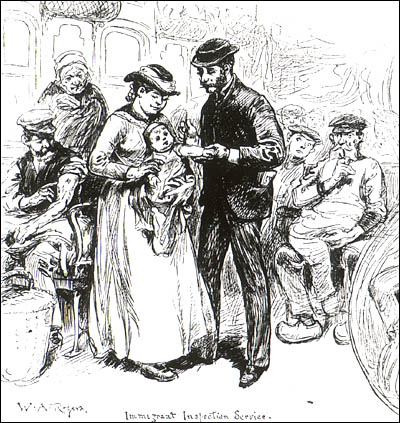 Whether traveling on boats or trains, immigrants were often required to undergo vaccination.
By the 1960s, smallpox was limited to Brazil, West-Central Africa, East-Southern Africa, the Indian subcontinent and Indonesia. Throughout the world, vaccination programs cost millions and in some cases even resulted in deaths. Although there were calls for the global eradication of smallpox, most people doubted this could be done and the 1967 launch of the World Health Organization's program to eradicate the disease was met with skepticism.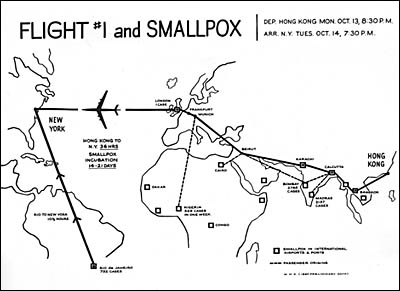 With the rise of air travel, smallpox could spread across continents and oceans within forty-eight hours or less.
As smallpox became less common, Americans became lax about vaccination. In 1947, when smallpox erupted in New York City, only a quarter of the city's population had been vaccinated. In the following two weeks, a record 6.35 million people were vaccinated and the epidemic was arrested, leaving only two dead from the disease but six dead from complications related to vaccination.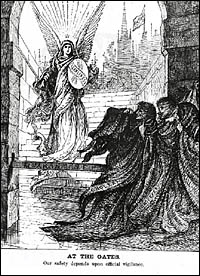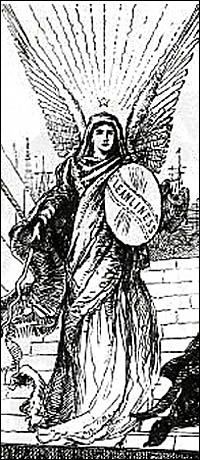 In America, native-born populations feared that immigrants would bring disease into the country. Smallpox was especially feared.
Customs officials checked passengers for vaccination scars to ensure that they had been vaccinated against smallpox.