---
Campaign to Eradicate
Headed by D.A. Henderson of the United States Public Health Service, the WHO Smallpox Eradication Unit needed to ascertain levels of smallpox, arrange for the cost-effective production of vaccine and finally vaccinate large populations—many of whom were nomadic or lived in politically unstable regions.
Vaccinating for smallpox can be so difficult that even experienced vaccinators waste vaccine or fail to achieve an adequate "take."
Jet injectors gave subcutaneous injections (injections under the skin) and delivered vaccine more efficiently than traditional methods of vaccination. To enable vaccinators to bring the jet injector into the field, Aaron Ismach, a civilian in the U.S. Defense Department, developed a foot-powered injector called the "ped-o-jet" which was not dependent on electricity.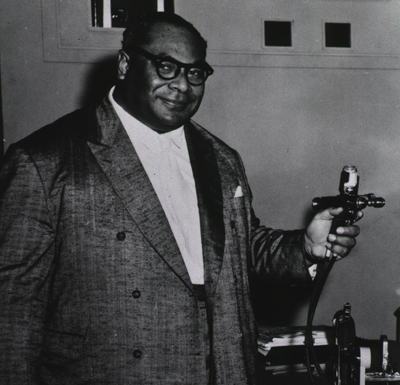 Here King Tauf-Ahau Tupou III of Tonga demonstrates a jet-injector.
In 1961, two researchers developed a better method of delivery; the bifurcated needle was easy to use and required only one-quarter of the amount of vaccine previously needed. "Vaccine takes" were now nearly 100 percent and the procedure could be done quickly and easily.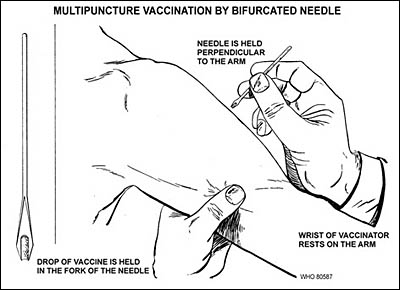 The bifurcated needle was easy to carry into the field. After sterilization, the needle could be re-used up to 100 times, making it extremely cost-effective. Ultimately, the bifurcated needle came to be preferred over the jet injector.
In 1967, WHO workers vaccinated 25 million people but large segments of the population were still being missed. To address this, William Foege developed Eradication Escalation or E2. E2 entailed an all-out attack to contain smallpox outbreaks during October, the natural seasonal low point of smallpox transmission. Prevention of just one case during this critical period could permanently destroy a smallpox chain. In 1968, E2 was initiated on a trial basis in Sierra Leone, the world's most smallpox infested country. Within nine months, Sierra Leone reached zero-pox.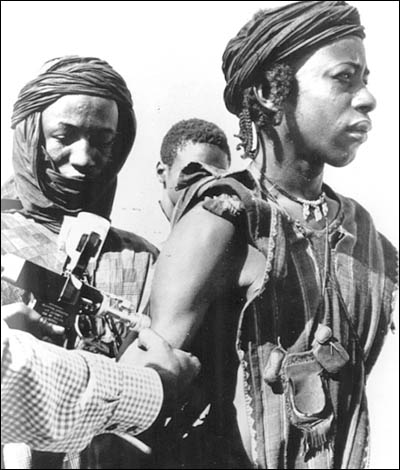 Because many people are nomadic, WHO workers worried that large populations might go unvaccinated. E2 which attacked smallpox at the chain of transmission enabled WHO workers to eradicate smallpox—even when segments of the population were not vaccinated.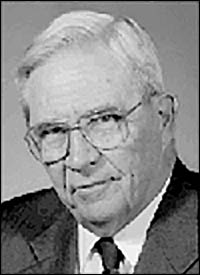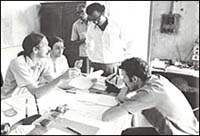 D.A. Henderson (top) who directed the Smallpox Surveillance Unit (above) recruited health care workers who tended to be extremely young (under forty), deeply committed and highly idealistic. Staff members were required to spend at least a third of their time working in rural and isolated areas.
William Stewart, the Surgeon General of the United States, comforts Rebecca Ansah Asamoah, the recipient of the 25th millionth vaccination.