Board of Regents
The NLM Board of Regents was established in 1956 by the same Act that created the National Library of Medicine. It serves as the advisory body to the Secretary, HHS; Assistant Secretary for Health; Director, NIH; and the Director, NLM, on all important aspects of policy regarding the Library and is the final review body for NLM's extramural grant program. The Board meets three times a year in February, May and September.
Membership Roster | Member Profiles | 2016 Charter (PDF)
Future Meeting Dates
September 25-26, 2018
February 12-13, 2019
May 14-15, 2019
September 10-11, 2019
February 4-5, 2020
May 12-13, 2020
Board of Regents Minutes and Videocasts
Past Working Groups and Planning Panels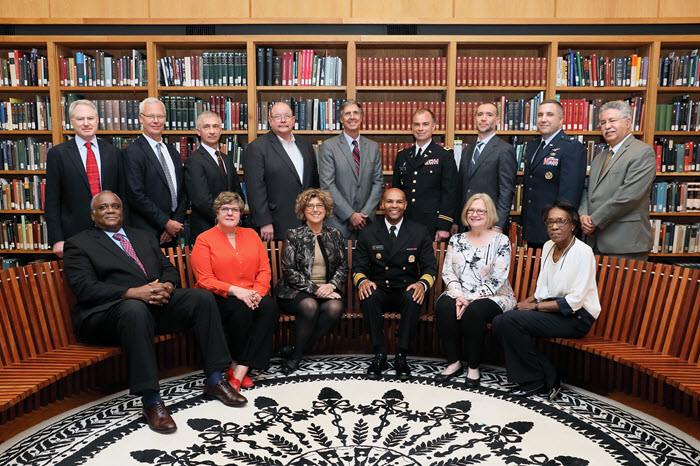 Standing from left to right: Dr. Eric Horvitz, Dr. James Deshler, Mr. Stan Kosecki, Dr. Dale Smith, Dr. Daniel Masys, Col. Kent DeZee, Dr. Alessandro Acquisti, Lt. Col. Thomas Mahoney, Dr. Carlos Jaen. Seated from left to right: Dr. Gary Puckrein, Dr. Patricia Flatley Brennan (Director, NLM), Dr. Esther Sternberg, VADM Jerome Adams, Ms. Jane Blumenthal, Ms. Sandra Martin.