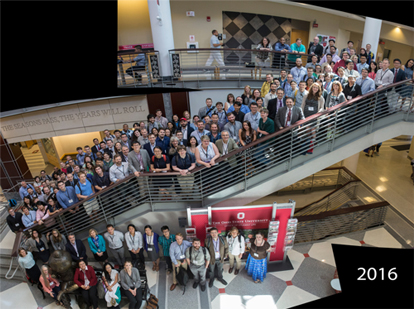 2016 NLM Training Conference Participants
NLM Informatics Training Conference 2016
June 27-28 at The Ohio State University
Emily Hendryx
Rice University
Pediatric ECG Feature Identification
Abstract:
Since each part of the electrocardiogram (ECG) corresponds to a different stage in the cardiac cycle, tracking changes in individual ECG features over time can help physicians gain further insight into changes in a patient's clinical status. However, expecting physicians to fully analyze ECG subtleties in real time while analyzing the rest of the presented patient data is impractical, especially over longer periods of time. The goal of this work, therefore, is to automate the ECG feature-identification process on a beat-by-beat basis.
While some algorithms for identifying individual ECG features exist, these methods typically rely on specific timing thresholds and are derived from adult data. To better serve the pediatric population – specifically those with congenital heart disease – we are developing a library of key pediatric ECG morphologies using data collected from the bedside monitors at Texas Children's Hospital. Key morphologies for the library are identified via the CUR matrix factorization. This beat selection leads to the definition of morphology classes to be used in conjunction with dynamic time warping in identifying individual ECG features in unlabeled beats. The labeled features can then be considered in the development of predictive models for real-time clinical decision support.

Emily Hendryx

Focus Session
Arielle Fisher
University of Pittsburgh
User-Centered Design and Evaluation of RxMAGIC: A System for Prescription Management and General Inventory Control for Low-Resource Settings
Abstract:
The availability of healthcare services in low-resource settings is limited due to health, economic, and education disparities in underserved populations. Free clinics are critical in providing primary care and pharmaceutical services to these patients, however they represent an understudied work environment in healthcare. In addition to service-related challenges, such as difficulty in obtaining essential medicines, free clinics are burdened with distinctive organizational challenges.
Ensuring an uninterrupted drug supply is essential to providing healthcare in these settings. Accurate information on current stock counts is necessary to minimize stockouts and wastage due to expiry. Informatics tools have tremendous potential to assist healthcare workers and enhance process efficiency if designed to support user workflow.
We developed a system for Prescription Management and General Inventory Control (RxMAGIC) at the Birmingham Free Clinic (BFC) in Pittsburgh, PA, a walk-in clinic that serves medically vulnerable populations. A mixed-methods approach was employed to identify and quantify process inefficiencies in the dispensary. RxMAGIC is a modular, problem-driven solution designed to mitigate workflow challenges and improve pharmacist efficiency by streamlining the dispensing process and improving inventory control. Although RxMAGIC was developed in the context of the BFC, we believe it may alleviate similar medication management challenges in developing countries.

Arielle Fisher

Best Poster
John Magnotti
Baylor College of Medicine
Casual Inference During Multisensory Speech Perception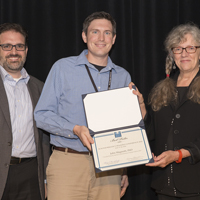 John Magnotti

Best Open Mic
Yasmin Lyons
University of Texas MD Anderson Cancer Center
A Macrophage-Specific Gene Signature to Predict Response to Treatment
Session X1
Jennifer Aucoin
Veterans Administration
Creating a Pain Dashboard using Veterans Health Administration Data
Session X2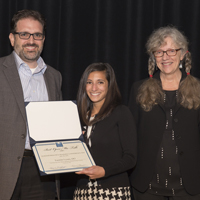 Yasmin Lyons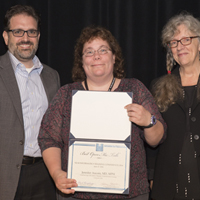 Jennifer Aucoin
Save
Save
Save
Save
Last Reviewed: July 13, 2016