With a nation divided, the American Civil War was a war to preserve the Union. For African Americans, it was a fight for freedom and a chance for full participation in American society. As all Americans sought ways to participate and contribute to the war effort for the Union, African Americans moved beyond the prejudices they faced to serve as soldiers, nurses, surgeons, laundresses, cooks, and laborers. Their participation challenged the prescribed notions of both race and gender and pushed the boundaries of the role of blacks in America.
African Americans who served as surgeons and nurses for the Union Army found themselves in both new and familiar roles as healers and caretakers. Surgeons were in positions of authority, which had never occurred in the United States while nurses received paid wages for their work. These men and women came from different backgrounds and life experiences, but their desire to participate in the cause for freedom transcended class, education, and social position.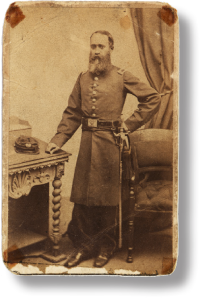 John Van Surly DeGrasse,
c. 1863
Courtesy Massachusetts African American Museum, Boston & Nantucket, MA and the Massachusetts Historical Society
Most African American surgeons during the war were assigned to military hospitals or recruiting stations since many white surgeons would not serve alongside black surgeons in the field or be their subordinates. John V. DeGrasse, one of only two African American physicians who received a commission in the army, was the only black surgeon to serve in the field with his regiment. A physician from Massachusetts, DeGrasse received his medical degree from Maine Medical College and served as an assistant surgeon with the 35th United States Colored Infantry.
William P. Powell, Jr. was one of thirteen African American surgeons who served during the Civil War. Powell, a resident of New York City, received his medical education in England. In May 1863, he was hired as a contract assistant surgeon at Contraband Hospital in Washington, D.C., a medical facility that cared for emancipated slaves known as contraband. Assuming the duties of surgeon-in-charge six months after his appointment, Powell remained at the hospital for one year during which time he hired several black nurses and made requests for camp improvements including perimeter protective fencing.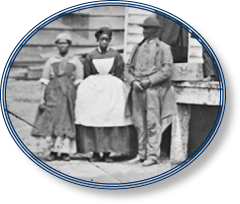 Relief Workers in front of United States Christian Commission storehouse in Washington, D.C., April 1865
Courtesy Library of Congress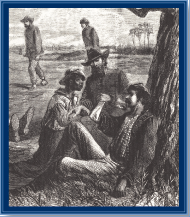 Illustration of an African American man assisting a medical officer on the battlefield, Harper's Weekly, August 20, 1864
Courtesy Harper's Weekly
African American women and men joined the war effort working at hospitals, on the battlefield, and with relief organizations such as the United States Christian Commission. Their service was critical to the care and comfort of wounded soldiers.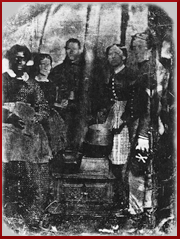 Nurses, attendants, and soldiers inside a hospital tent at City Point, Virginia
Courtesy National Museum of Civil War Medicine