Carlos Montezuma (1865-1923)
Native American M.D., Author
Montezuma received his medical degree from Northwestern University's Chicago Medical College in 1889. From 1889 until 1896, he worked for the Office of Indian Affairs as a physician at a number of different posts throughout the west. His final post was at the Carlisle Indian School Hospital in Pennsylvania. From 1896 until 1922, he was engaged in private practice in Chicago. During this time, Montezuma also taught courses at medical schools in Chicago.
Montezuma's service at Indian Affairs hospitals in the West influenced his work as an author. From 1916 until his death in 1923, he published his own newspaper, WASSAJA, which called for the abolition of the Office of Indian Affairs. He titled the paper after his Yavapai name, meaning "signal." Montezuma's efforts to abolish the Indian Bureau were joined after World War I by Charles Eastman. Montezuma died on January 31, 1923.
---
Exhibit Case 8A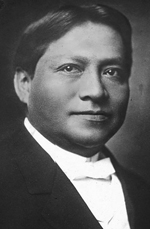 Carlos Montezuma, 1896
Photo Lot 73 06702900,
National Anthropological Archives, Smithsonian Institution
---
Graduation announcement of Carlos Montezuma from the Chicago Medical College of Northwestern University, 1890 [not shown in online exhibition].
---
Page from A Souvenir of the Carlisle Indian School, 1902. Montezuma is shown on the porch of the school's hospital, during his tenure at Carlisle. This item kindly loaned from Dickinson College Library's Special Collections [not shown in online exhibition].
---
Annual Announcement of University of Illinois's College of Physicians and Surgeons of Chicago, 1904-1905: Montezuma's name is on the faculty list [not shown in online exhibition].