Amistad Research Center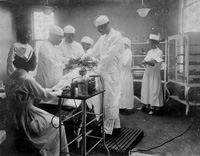 Copyright to images retained by the owning repository.

Amistad Research Center, Inc

6823 St. Charles Ave.
Tilton Hall
Tulane University
New Orleans, LA 70118

(504) 862-3222


http://www.amistadresearchcenter.org/

Brenda B. Square, Director of Archives and Library

http://www.amistadresearchcenter.org

Founded in 1966, the Amistad Research Center Inc. is one of the largest independent archives specializing in the history of African Americans and the study of ethnic history, culture, and race relations in the United States. While the collecting focus is national, the holdings are international in scope. Amistad houses more than 10 million primary documents, 250,000 photographs, more than 20,000 books, and over 1,000 works of African American art. The Center is loated on the campus of Tulane University in New Orleans, Louisiana.
Arthur Lee Branch Papers, American Missionary Association Archives Addendum, Arthur T. Davidson papers, Dent Family papers, Jesse Olin Sheffield papers, Rivers Frederick papers, Joseph Hardin papers, Clarence C. Haydel papers, Williams F. Holmes papers, McClennan Family papers, Aubre De L. Maynard papers, Mabel Keaton Staupers papers, August C. Terrance papers, Auxiliary to the National Medicine Association Archives, Henry Braden III papers, Vining family Collection, Emile J. LaBranche Sr. papers