NLM's University-based Biomedical Informatics and Data Science Research Training Programs
https://grants.nih.gov/grants/guide/rfa-files/RFA-LM-21-001.html
As of July 1, 2017, the National Library of Medicine supports research training in biomedical informatics and data science at sixteen educational institutions in the United States. These training programs offer graduate education and postdoctoral research experiences in a wide range of areas including: health care informatics, translational bioinformatics, clinical research informatics, public health informatics. In all of these areas, biomedical data science concepts and methods are part of the core curriculum. Seven programs also offer special tracks in environmental exposure informatics. The organizations funded to do this training are responsible for the selection of trainees; questions about eligibility, program specifics, and levels of support should be addressed to the programs themselves. The location and contact information for NLM's training programs are provided below.
Each NLM research training program makes special efforts to recruit individuals from underrepresented racial and ethnic groups, individuals with disabilities, women, and those from economically, socially, culturally or educationally disadvantaged backgrounds, into research careers in biomedical informatics and data science. Many programs offer short-term training experiences toward this goal. For further details, please see the table below, and contact the individual training program.
For general information about NLM's University-based Biomedical Informatics and Data Science Research Training Programs, contact: Dr. Valerie Florance, florancev@mail.nih.gov.
NLM's University-based Biomedical Informatics and Data Science Research Training Programs
Listed in alphabetical order by state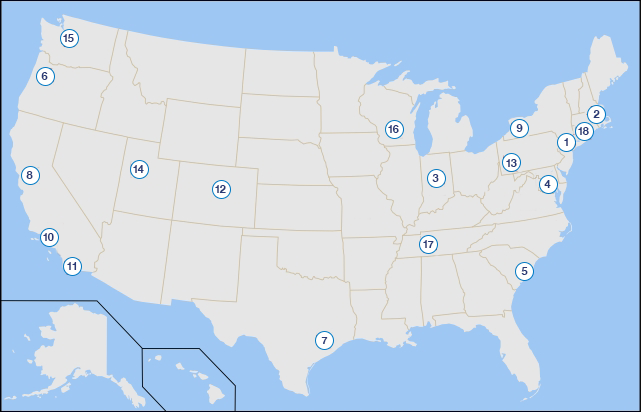 Areas of Emphasis for NLM's University-based Biomedical Informatics and Data Science Research Training Programs
Training Program
Healthcare Informatics
Translational Bioinformatics
Clinical Research Informatics
Public Health Informatics
Environmental Exposure Informatics
Short-term Trainee Positions
1. University of California San Diego
San Diego, CA
Contact: Nancy Herbst
Yes
Yes
Yes
Yes
Yes
Yes
2. Stanford University
Stanford, CA
Contact: Sylvia Plevritis
Yes
Yes
Yes
No
Yes
Yes
3. University of Colorado Anschutz Medical Campus
Aurora, CO
Contact: Larry Hunter
No
Yes
No
No
No
Yes
4. Yale University
New Haven, CT
Contact: Robin Einbinder or Lisa Sobel
Yes
Yes
Yes
Yes
No
Yes
5. Indiana University/Regenstrief Institute
Indianapolis, IN
Contact: Brian Dixon
No
No
No
Yes
No
No
6. Harvard University (Medical School)
Boston, MA
Contact: Nils Gehlenborg
Yes
Yes
Yes
Yes
Yes
Yes
7. Columbia University Irving Medical Center
New York, NY
Contact: Marina Bonanno
Yes
Yes
Yes
Yes
No
No
8. State University of New York at Buffalo
Buffalo, NY
Contact: Peter Elkin
Yes
Yes
Yes
No
No
Yes
9. University of North Carolina Chapel Hill
Chapel Hill, NC
Contact: Javed Mostafa
Yes
No
No
Yes
No
No
10. Oregon Health & Science University
Portland, OR
Contact: Bill Hersh
Yes
Yes
No
No
Yes
Yes
11. University of Pittsburgh at Pittsburgh
Pittsburgh, PA
Contact: Harry Hochheiser
Yes
Yes
Yes
Yes
Yes
Yes
12. Vanderbilt University
Nashville, TN
Contact: Cindy Gadd
Yes
Yes
No
No
Yes
Yes
13. Rice University
Houston, TX
Contact: Lydia Kavraki
Yes
Yes
Yes
No
No
No
14. University of Utah
Salt Lake City, UT
Contact: Todd Bjorklund
Yes
Yes
Yes
Yes
Yes
Yes
15. University of Washington
Seattle, WA
Contact: Peter Tarczy-Hornoch
Yes
Yes
Yes
Yes
No
No
16. University of Wisconsin Madison
Madison, WI
Contact: Mark Craven
Yes
Yes
Yes
Yes
Yes
Yes