NLM's University-based Biomedical Informatics and Data Science Research Training Programs
https://grants.nih.gov/grants/guide/rfa-files/RFA-LM-21-001.html
The National Library of Medicine supports research training in biomedical informatics and data science at eighteen educational institutions in the United States. NLM's T15 program offers graduate education and postdoctoral training and research experiences in a wide range of areas including health care informatics, translational bioinformatics, clinical informatics, public health informatics, and consumer health informatics. Trainees will receive exposure to a core curriculum focused on biomedical data science concepts and methods as well as develop skills needed to lead independent future research. Some T15 programs offer an additional area of training in HIV/AIDS. Please contact T15 awarded institutions for questions related to trainee selection, eligibility, program specifics, and levels of support. The location of NLM T15 training institutions and contact information for awardees is provided in the interactive map below.
Each NLM research training program makes special efforts to recruit individuals from underrepresented racial and ethnic groups, individuals with disabilities, women, and those from economically, socially, culturally, or educationally disadvantaged backgrounds. Those interested in receiving predoctoral or postdoctoral training are encouraged to directly reach out to T15 program contacts at each institution as identified in the interactive map.
For general information about NLM's University-based Biomedical Informatics and Data Science Research Training Programs, please contact: Lyn Hardy, PhD, Lynda.Hardy@nih.gov.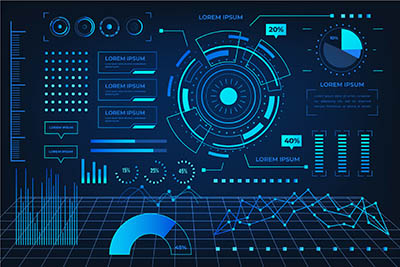 Future Conference:    NLM Informatics Training Conference 2023: at Stanford University, Stanford, California
NLM's University-based Biomedical Informatics and Data Science Research Training Programs
Information can be found by clicking on each site's geographical location. Site numbers correspond to the list of T15 Awarded Sites located under the map.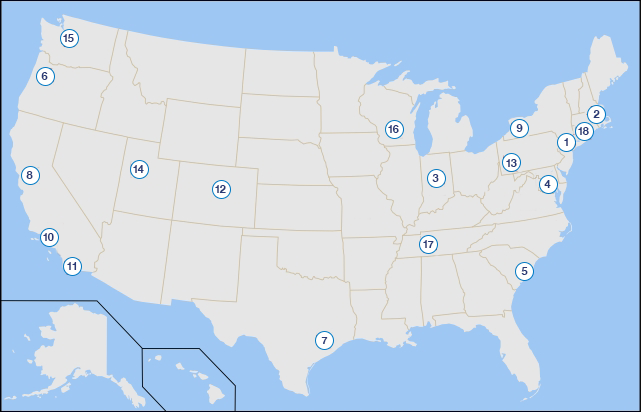 T15 Awarded Sites (Principal Investigator)
1. Columbia University (Noemie Elhadad)
2. Harvard University (Nils Gehlenborg)
3. Indiana – Reigenstrief (Brian Dixon)
4. Johns Hopkins University (Christopher Chute)
5. Medical University of South Carolina (Alexander Alekseyenko)
6. Oregon Health Sciences University (William Hersh)
7. Rice University (Lydia Kavraki)
8. Stanford University (Sylvia Plevritis)
9. State University of New York at Buffalo (Peter Elkin)
10. University of California Los Angeles (Bogdan Pasaniuc)
11. University of California San Diego (Lucila Ohno-Machado)
12. University of Colorado (Lawrence Hunter)
13. University of Pittsburgh (Harry Hochheiser)
14. University of Utah (Karen Eilbeck)
15. University of Washington (Peter Tarczy-Hornoch)
15. University of Wisconsin (Mark Craven)
17. Vanderbilt University (Jessica Ancker)
18. Yale University (Cynthia Brandt)
Helper Links for Training Program Grants
Resources for Training Directors
Recent Institutional Training Awards
NIH Human Subjects Web Site
Data Management & Sharing Policy
Multiple PI FAQ
FAQ for NIH Public Access Policy
Grant Program Overview
Research Support
Resource Support
Career Support
Training Support
Small Business R & D Support
Past NLM T15 Conferences
June 22-24, 2022
June 22-24, 2020
June 24-25, 2019
June 4-5, 2018
June 5-6, 2017
June 27-28, 2016
June 23-24, 2015
June 17-18, 2014
June 18-19, 2013
June 26-27, 2012
June 28-30, 2011
June 15-16, 2010
June 23-24, 2009
July 8-9, 2008
June 26-27, 2007
Last Reviewed: May 24, 2022