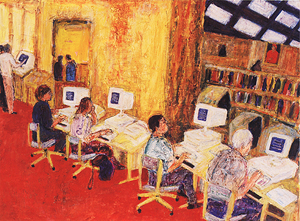 'World Wide Dissemination of Medical Knowledge'
(ink drawing with tempera, 36' x 43')
©May H. Lesser
In the rotunda of the National Library of Medicine, health scientists and students have access to current, uniform and accurate medical information. This world- wide communication system cuts across national boundaries enabling as a nucleus, this group to be joined together in a library without walls. On the right of the computers is the reading room with its circulation desk, shelved books with call numbers on their spines, and portraits of the former directors of the Library. The surgeon who first served as director of the Army Medical Library 130 years ago has on academic red robes. There is an exhibit of Ellis Island on the other side of the computers. The first NLM Director had a hand in inventing the punched card used in tabulating statistics. The immigrants at Ellis Island were catalogued on such cards, documenting their origin, age and sex. These were a precursor of the modern computer.
---
The Library thanks the Chairmen of the Departments of Radiology, Pediatrics, Surgery and Medicine at Tulane University Medical Center, the Chairman and C.E.O. of The Upjohn Company, the Chiefs of the Department of Transfusion Medicine and of the Surgery Branch of the National Cancer Institute, N.I.H., for their cooperation in this project. The Friends of the National Library of Medicine produced this brochure with funds provided by The Upjohn Company. Copies may be obtained by writing The History of Medicine Division, National Library of Medicine, 8600 Rockville Pike, Bethesda, MD 20894. [Printed version of exhibit brochure prepared by] Upton Printing, New Orleans, Louisiana.