Content
Associate Fellowship Program: 2001-2002 Associate Fellows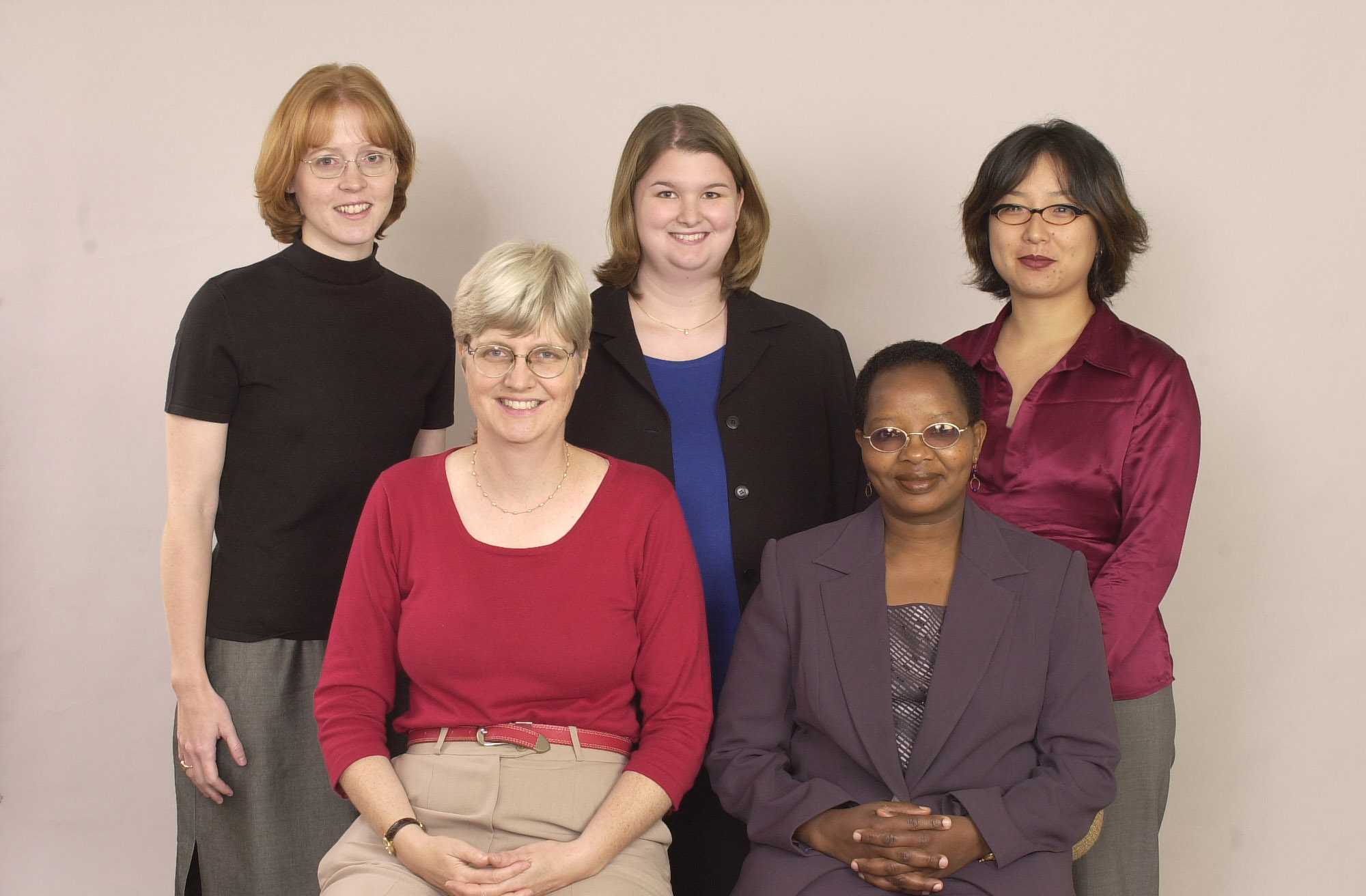 Back row: Laura Hileman, Cynthia Vaughn, Teresa Lee
Front row: Claire Twose, Nancy Kamau
---
Meet the Associates
Laura Hileman has been working as an assistant at the AIDS Administration Resource Center in Baltimore, Maryland. She also completed field studies in consumer information and e-journal collection management at the Baltimore Health Sciences/Health Services Library. Laura was the web developer for an outreach project there, providing health information resources to parish nurses in Maryland. Laura received her BS degree in psychology from the College of William and Mary and her MLS from the University of Maryland. Her professional interests include consumer and community health information, clinical medical librarianship and user education.
Claire Twose has worked for several years in a variety of non-profit community information settings, including community information services. In Asheville, North Carolina, she provided reference services at the Health Sciences Library of the Mountain Area Health Education Center. She also maintained a consumer health collection and provided administrative support for a wellness center in Asheville. Claire's professional interests include consumer health information, bioethics and health information outreach to rural and underserved areas. Her BA in psychology is from Queen's University in Ontario. Her MLIS is from the University of North Carolina at Greensboro.
Cynthia Vaughn's desire to become a health sciences librarian resulted from a field experience at the Woman's Hospital in Baton Rouge, Louisiana. There she helped to oversee the implementation of a new online catalog, and participated in collection development, serials management and reference. Cynthia received her undergraduate degree in English from the University of Tennessee in Knoxville, and her MLIS from Louisiana State University. Throughout graduate school she worked in the university's computer lab. Her professional interests include the analysis of usage statistics and interlibrary loan operations.
Nancy Kamau is currently in charge of library and information Services at the Kenya Medical Research Institute, where she has been involved in training and outreach to other health sciences libraries. She started her career at the Kenya National Archives and Documentation Service. She received her BA with a major in sociology from the University of Nairobi. Her MA in information studies is from the University of Sheffield. Nancy's interests are in information access and retrieval and capacity building for health information providers. She is a member of the Association of Health Information and Libraries in Africa (AHILA) and the Chapter of Documentalists of Kenya.
Teresa Lee, a native of Vancouver, Canada, received her MLIS from the University of British Columbia, where she specialized in health information and children's services. She worked as an assistant in two of UBC's libraries: Koerner Library (humanities and social sciences) and Woodward Library (biomedical). She has also been a research assistant at a women's health policy research center, the British Columbia Centre of Excellence for Women's Health. Teresa is especially interested in consumer health information and services for underserved populations.
Last Reviewed: February 1, 2022