Associate Fellowship Program: Where Are They Now?

Where Are They Now? highlights the accomplishments of our alumni associates ten years after their Associate Fellowship. Below, our 2009 - 2010 alumni share where they work now and their responisibilites, how the fellowship impacted their careers, how they are continuously learning and growing and what's next for them.
Ten years after their fellowship:
---
Ada Cornell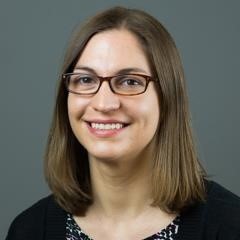 Where are you working now?
I work at the Congressional Research Service (CRS) within the Library of Congress. CRS provides authoritative, confidential, objective, and nonpartisan research and analytical services to Congress. In my position as a senior research librarian, I assist congressional staff with their health policy-related research questions and collaborate with CRS health policy analysts on written reports and congressional requests.
How did the NLM Associate Fellowship impact your career?
The Associate Fellowship program gave me the valuable opportunity to be mentored by leaders in health librarianship and to work on a variety of projects in different parts of the library. Through these projects and the curriculum, I was able to get to know NLM staff, who were so generous with their time. I also had the chance to share my work professionally through presentations at NLM and in writing--I published one of my NLM projects in a JMLA article, co-authored with a librarian at NLM.
How and what do you do to keep learning and growing?
My job requires me to stay informed about current topics and resources in health policy and medicine, so I try to squeeze in as much time as I can for keeping up with current events and attending webinars and local conferences. I attend frequent trainings on databases and other subscription-based resources through CRS and LOC, as well as online training through NLM, NNLM, and MLA.
What's next for you?
Right now I am focused on giving my best service to Congress during the COVID-19 pandemic. It's a challenging time in our country and in D.C. right now, and I am looking forward to brighter days ahead when I can freely walk across Capitol Hill to my office once again.
---
MaShana Davis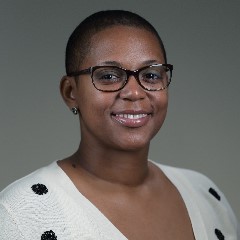 Where are you working now?
I work at the National Institutes of Health (NIH) Library, a biomedical research library whose collection and services support programs at NIH and select U.S. Department of Health and Human Services agencies. After my 2nd year of the NLM Associate Fellowship, I stayed on as a contractor and was later hired as a full-time employee in 2013. My role has pretty much stayed the same over the years, developing and managing technology projects for the Library. But, if I had to put a name on it, it would be project/product manager. Some of my accomplishments I'm most proud of include standing up a technology space that supports discovery and exploration of technology in biomedical research (NIH Library Technology Hub); shepherding the Library into the world of Drupal by migrating its main website from SharePoint; managing the development of several digital research grant portfolio databases using Drupal; developing a self-service studio designed to support audio/visual production at NIH; co-planning an annual Drupal conference for 1000+ attendees, and starting and managing a federal community of practice to continue the conversation long after the conference.
How did the NLM Associate Fellowship impact your career?
Coming from a computer science background and the world of web development, I really didn't know my place in the LIS field. I believe the Fellowship helped me gain my footing and find a role that was fitting for my skill set, knowledge and interests. My "ah-ha" moment came when the Fellows met with the folks in Lister Hill. I thoroughly enjoyed my time with them and really felt at home. Kathel Dunn, the fellowship coordinator, also made a huge difference by ensuring that there were project opportunities that closely aligned with my experience. And, my 2nd year assignment at the NIH Library, opened more doors and offered many more "ah-ha" moments. Project/product management is my thing!
How and what do you do to keep learning and growing?
I love learning! My family calls me a professional student. But, I try to stay current by attending conferences, participating in communities of practice, joining listservs, reading blogs and books, going to local meetups, viewing videos on YouTube, volunteering, networking, and taking advantage of professional development opportunities through the Library, NIH, HHS, or other outlets, and just absorbing things in everyday life. I know that last one sounds cliché, but it's true. Life is full of opportunities to learn and grow, and I take advantage of it. I will say that I'm not always up on the latest and greatest. That is a challenge I've yet to master.
What's next for you?
I've asked myself this question a thousand times, especially here lately as I enter mid-career and mid-life. I want to find a career that brings me joy. That's probably the dream for most of us, right? But, I don't want to work the next 30-40 years at a job or in a role that doesn't bring me more than a paycheck. I'd like to do something that makes a difference; use my skills for good. In the meantime, I'm honing in on my current role as project/product manager. As the LIS field continues to evolve, I think this role will increasingly emerge, so, I'm seeking out professional development opportunities and looking at similar roles in other fields to see what is required and how I can get my foot in the door.
---
Sarah Westphal
Where are you working now?
I am currently working as a food labeling consultant. Over the past few years my focus has been on helping companies implement and comply with the FDA amendment to its labeling regulations for foods and dietary supplements. The amendment provides updated nutrition information to assist consumers in maintaining healthy dietary practices.
How did the NLM Associate Fellowship impact your career?
Through the fellowship, I learned about many NLM products that provide information on a variety of topics. With my work in the food industry, I use ChemIDplus to research ingredients, PubMed to help substantiate nutrition claims, MeSH thesaurus to assist with taxonomy projects for retail websites and MedlinePlus to answer consumer questions on dietary supplements and nutrition.
How and what do you do to keep learning and growing?
Volunteering has given me the opportunity to gain new skills and explore ways to step outside my comfort zone. I currently volunteer with the Minneapolis Central Library and served as Treasurer for the Food, Agriculture & Nutrition Division of the Special Libraries Association.
What's next for you?
I'm excited to start a new project developing an information tool for food ingredients.
---
Yani Yancey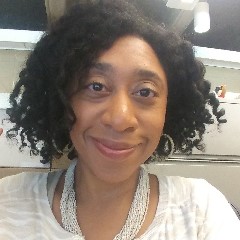 Where are you working now?
I'm with the Public Affairs Branch of the Environmental Protection Agency's Region 8 office in Denver, Colorado. I am a digital engagement strategist working on web and social media. I also travel a fair amount to take photos and video or do livestreaming and other support for the events that we have with state environmental agencies and stakeholders throughout the six states in the region (Colorado, Montana, North Dakota, South Dakota, Utah, and Wyoming).
How did the NLM Associate Fellowship impact your career?
Being an associate fellow was a fabulous kickoff to my career, and I still cherish the experiences I had and relationships I built with so many wonderful people at NLM/NIH and at my host institution for my second year, the Health Sciences and Human Services Library at the University of Maryland in Baltimore. My Associate Fellowship projects involved web and social media, which is a path I've continued on over the past decade. Even though I haven't worked in a library in years, I still consider myself to be an information professional whose job is to connect people with relevant, accurate, and timely information.
How and what do you do to keep learning and growing?
I've changed jobs about every two years since I was in the Associate Fellowship Program, which has really kept me on my toes and growing out of necessity. Each position came with higher levels of responsibility and helped me gain skills in different areas. All of my previous positions were within Health and Human Services so I'm currently doing a good deal of on-the-job learning about environmental topics.
What's next for you?
Change has really been a constant for me and I've been fairly hard-charging professionally; I'm taking my foot off the gas for a bit and just hoping to survive this pandemic.
---
Holly Zerbe
Where are you working now?
Immediately after I finished my fellowship I took a position at the University of Pennsylvania Libraries in e-resources acquisitions, access and licensing and have been at Penn Libraries ever since.
This past fall I took on a new role as the Assistant University Librarian for Collections Strategy. I'm still learning the ropes of this new position but my primary responsibilities are to allocate and monitor the expenditure of our $22 million collections budget; maintain relationships and productive communication with information resource vendors and publishers; co-represent the Penn Libraries on various external committees, including the Ivy Plus Libraries confederation and the Northeast Research Libraries consortium; and to support and advance the collections-related functions of staff across the library system.
I also directly supervise the Social Sciences, Humanities, Area Studies, and Collection Analysis units of the Penn Libraries.
How did the NLM Associate Fellowship impact your career?
I finished library school during the 2009 recession when there were very few academic library jobs available and the job market was flooded with more experienced librarians; an unfortunate situation that many new library school grads may also be facing soon. The NLM Associate Fellowship was an amazing training opportunity that really helped me build my skills and experience to be more competitive in the job market. By the time I completed the second year of my Associate Fellowship at Yale, libraries were hiring again and I was able to get my ideal job. During my fellowship I also met so many amazing people who have helped and encouraged me on my career path. It's been such a boon to have made those connections.
The NLM Associate Fellowship also gave me a great foundation for working with e-resources. The work the NLM does is cutting edge and has a profound impact on libraries and publishing in all fields. Having a deep understanding of how things like PubMed, PMC, MEDLINE, Indexing, MeSH, and DOCLINE work came in extremely handy in my day to day e-resources work. I also personally use MedlinePlus if I want to look up health information and encourage my friends to use it too. And I have to admit that I feel a little hipster pride that I can say I knew about Dr. Fauci before knowing about Dr. Fauci was cool.
How and what do you do to keep learning and growing?
There is so much on-the-job learning as libraries are always evolving to meet the changing needs of our users. I really admire how intrepid and willing the library community is to try new things and redefine what the library is and does. Learning to not be afraid to ask a lot of questions is a really useful skill I honed during my Associate Fellowship years.
One of the really interesting and challenging things about my new position is learning to think about library collections in new ways. I've been doing a lot of reading to learn more about publishing and scholarly communication; the blog The Scholarly Kitchen is a great resource. I'm also one of the representatives from Penn on the Ivies Plus Library Consortium Collection Development Group and I have learned so much working with the representatives from other institutions in that group including my former supervisor from the second year of my Associate Fellowship who represents Yale, Daniel Dollar.
What's next for you?
We are in unprecedented times and even after the immediate COVID-19 health crisis passes we can expect there to be major economic impacts and paradigm shifts in libraries, education and the publishing industry. There is some big work ahead of us and I feel very lucky to be in a position to help my library figure out how to weather those changes, especially the anticipated tightening of our collections budget. I hope to work with our peer institutions to expand collaborative collection development and shared print retention initiatives. The Penn Libraries are also launching a new 5 year strategic plan and I will be leading an initiative to broaden our collections and increase their diversity in representation, accessibility, scope, and format.
---
Last Reviewed: May 13, 2020