Content
Associate Fellowship Program: 2002-2003 Associate Fellows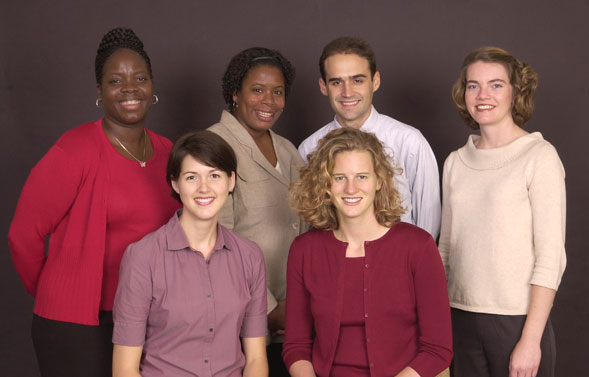 Back row: Shannon Jones, Michelle Hudson-Ochillo, Marcus Banks, Molly Cahall
Front row: Evangeline Alexander, Natalie Kamper
---
Meet the Associates
Michelle Hudson-Ochillo has worked in medical, archival, and public library environments and most recently worked at the Jefferson Parish Public Library and Amistad Research Center in New Orleans. In addition to her MLIS degree from Louisiana State University, Michelle holds a Masters of Social Work degree from Tulane University. Her professional interests focus on public health and medical informatics, with special interest in developing, implementing, and evaluating outreach programs targeted at consumer health and underserved populations. Michelle is also exploring the impact of the "digital divide" on society and is examining how newly emerging technologies can be utilized to address the issue.
Marcus Banks has experience in developing library policy, providing reference services, and creating databases. He is a former member of the Northwestern University Library Committee, which made recommendations to the University Provost concerning library programs and services. While pursuing his MLIS, he completed a practicum in the Reference and Bibliography Department of the Northwestern University Library. As the Research and Programming Associate for the American Massage Therapy Association Foundation, he developed and maintained the Massage Therapy Research Database. This searchable database is derived from MEDLINE citations, and is available without charge on the Internet. Marcus' BA in English is from Northwestern University. He earned his MLIS from Dominican University in 2002.
Molly Cahall graduated in August 2002 with an MSLS from the University of North Carolina-Chapel Hill. During graduate school, Molly worked as a graduate assistant at UNC's Health Sciences Library where she gained experience in the areas of User Services and Distance Education. Molly was also active in the Health Sciences Library's initiatives on handheld technologies by participating in its Mobile Technologies Working Group, creating an online guide for personal digital assistants (PDAs), and attending various forums and trainings on handheld technology. Molly also has a B.Ed. and an M.A. in Speech-Language Pathology and worked for 1.5 years in a subacute/long term nursing care environment providing evaluation and treatment for adults with communication and swallowing disorders. Molly's current interests include the dissemination of health information via handheld technologies, electronic licensing, clinical librarianship, and distance learning.
Shannon Jones comes to the Associates Program from North Carolina Central University where she earned her MLS in May 2002. While working on her degree, she was awarded a 2001 Spectrum Initiative Scholarship from the American Library Association. Shannon's professional interests include community and disease-specific outreach programs, medical informatics, emerging technologies in libraries, consumer health, web-based outreach services, and the dissemination of information to underserved populations. Shannon has a BA in English with a minor in Computer Programming from North Carolina State University in Raleigh.
Evangeline Alexander recently concluded a five-year enlistment in the U.S. Navy, wherein she served as a cryptologist. After completing studies at the Defense Language Institute in Monterey, California, Evangeline did a tour of duty in Hawaii. While there, she earned her MLIS from the University of Hawaii at Manoa, focusing her studies on database design, implementation, and evaluation. She also conducted an internship in science and technology reference, and initiated a project to update a list of Public Health core literature, modeled after the Brandon/Hill lists. Evangeline's professional interests include public health informatics, applying GIS/mapping technology to enhance scientific discovery, and database evaluation.
Natalie Kamper comes to NLM from California, where she recently earned her MLIS at University of California, Los Angeles. While attending UCLA, Natalie worked as a Web Site Architect at California Center for the Book. She also worked as a computer support assistant in her department's Multimedia and Information Technology Lab. During her graduate education, Natalie interned at RAND Corporation on a Digital Resources project and participated in teaching User Education classes at USC Norris Medical Library. Natalie's professional interests include Web-based medical information services, evaluation, and information policy. Natalie holds a BS in Kinesiology from the College of William and Mary.
Last Reviewed: February 1, 2022