Explore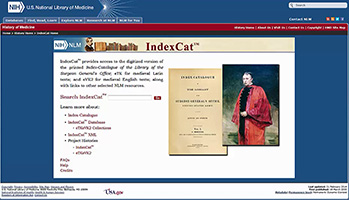 Learn more about how to navigate through IndexCat™ here.
Searching NLM IndexCat™
All IndexCat™ searches are comprised of keywords. Currently, there is a maximum limit of 1,000 citations that will display for the Index-Catalogue and eTK/eVK2 collections. LocatorPlus Catalog, PubMed, and PubMed Central will display 10 citations with a link directly to those databases.
Open All
eTK/eVK2 Resources
eTK/eVK2 Special Characters
The special characters listed below are for use with the eTK/eVK2 Collections.
æ Æ ð Ð Þ þ
à á â ä ç è É é ì í ñ ò ó ô ö ø ú ü °
Open this webpage in a new window in your browser so that you can still view IndexCat™.

Copy and paste any of the special characters for use in your eTK/eVK2 searches where needed, for example -

to search for Förster- first type the letter F in IndexCat™, copy the ö from this window, paste it next to the letter F, then enter the remaining letters in the word.

to search for þunwung - first copy the þ from this window, paste it into IndexCat™, then enter in the remaining letters in the word.

if a word you wish to search contains 2 consecutive special characters, copy each one individually into IndexCat with no spaces between them - e.g. þæt