Content
Associate Fellowship Program: 2007-2008 Associate Fellows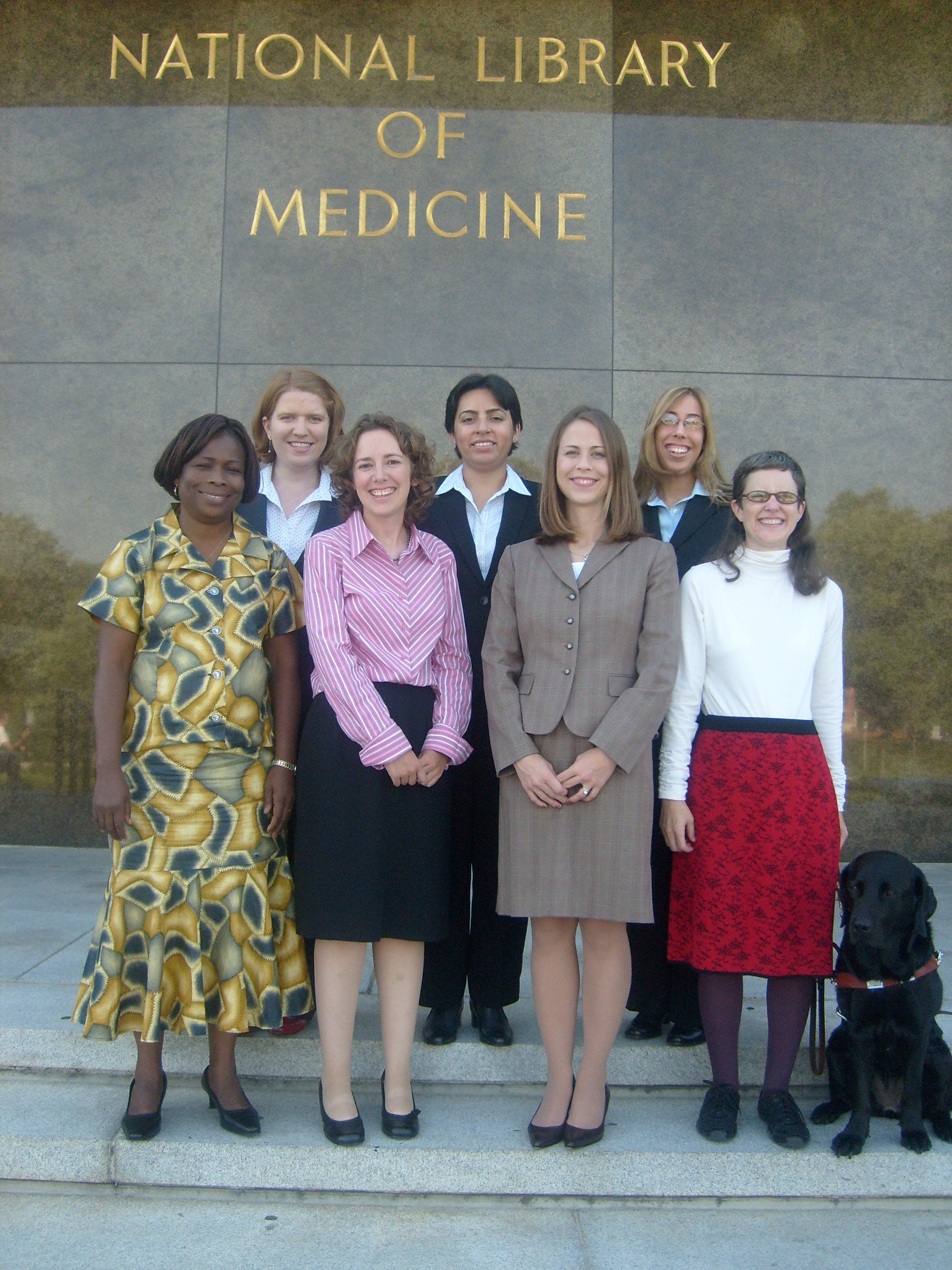 Front Row: Grace Ajuwon, Kate Flewelling, Sarena Burgess, Melissa Resnick.
Back Row: Emily Vardell, Brenda Linares, Joanna Karpinski.
---
Meet the Associates
Brenda Linares
Ms. Linares received her MLIS in June 2007 from UCLA. She has reference and information literacy teaching experience as an intern at the UCLA Louise M. Darling Biomedical Library. She also has intern experience in collection development and outreach at California State University, Northridge. Her undergraduate degree is in Finance. She was an officer for UCLA's American Library Association (ALA) Student Chapter and she is a 2005-2006 ALA Spectrum Scholar.
Joanna Karpinski
Ms. Karpinski received her MLIS in June 2007 from Drexel University, with a focus on health informatics. She has experience as a reference intern at the University of Pennsylvania Biomedical Library, as well as experience in technical and public services as a library assistant in public and academic libraries. Her undergraduate degree is in Political Science.
Kate Flewelling
Ms. Flewelling received her MLIS in May of 2007 from the University of Wisconsin, Milwaukee. She has experience as an intern at the Gerrish-True Health Sciences Library, Central Maine Medical Center. Ms. Flewelling also has experience as a middle school teacher and a public library children's librarian. Her undergraduate degree is in History.
Sarena Burgess
Ms. Burgess received her MSIS in May 2007 from the University of Tennessee, Knoxville. She has experience in digital library development, reference, instruction, and consumer health outreach at the Preston Medical Library, University of Tennessee Medical Center and Graduate School of Medicine. From her work at the UT Special Collections Library, she has experience in processing manuscript collections and creating digital finding aids. She also served as the President of the UT Student Chapter of the Tennessee Library Association. Her undergraduate training was in Anthropology and Archaeology.
Grace Ajuwon
Ms. Ajuwon is from Nigeria and is participating in the program as an International Fellow. She received her degree in librarianship in 1994 from the University of Ibadan. In Nigeria, she is a reference and information services librarian in the E. Latunde Odeku Medical Library, which is in the College of Medicine at the University of Ibadan. Her responsibilities include reference, database training, Web page development, overseeing information technology in the library, and representing the medical library to faculty boards and committees. Prior to her current position, she was a librarian at the Hezekiah Oluwasanmi Library, Obafemi Awolowo University in Nigeria; and at the African Regional Centre for Engineering Design and Manufacturing in Ibadan, Nigeria. Her undergraduate training was in Archeology and Anthropology.
Melissa Resnick
Ms. Resnick received her MLS in May 2007 from Queens College, with a concentration in medical librarianship. She has experience in copy cataloging at the Stony Brook University Health Sciences Center Library. Prior to librarianship, she had 10 years experience as a medical transcriptionist, as well as volunteer experience with a hospital and ambulance service. Ms. Resnick also holds an MS in Biopsychology from the Rensselaer Polytechnic Institute. Her undergraduate degree is in Biology.
Emily Vardell
Ms. Vardell received her MLS from Texas Woman's University in August 2007, with a specialty area in health information services. She has health sciences library experience as a practicum student. In 2005, she received a Fulbright Award to study the Austrian health care system and work as an English language teaching assistant in Austria. Her undergraduate degree was in Biological Chemistry and German Studies.
Last Reviewed: February 1, 2022