Content
Associate Fellowship Program: 2010-2011 Associate Fellows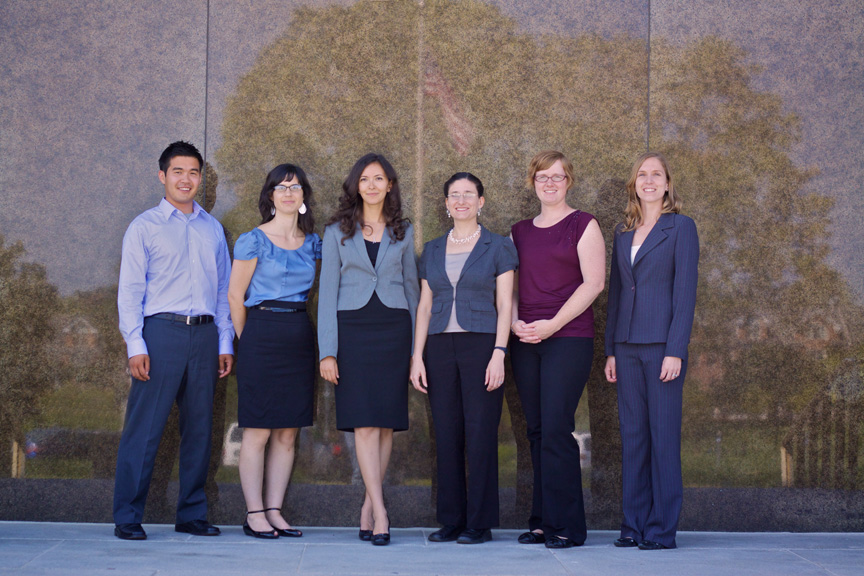 Stephen Kiyoi, Julie Adamo, Salima M'seffar, Caitlin Sticco, Kristen Greenland, Kristen Burgess
---
Meet the Associates
Julie Adamo
University of North Carolina, Chapel Hill, 2010
Julie Adamo received her MLS from the University of North Carolina, Chapel Hill in 2010. While working on her degree, Ms. Adamo worked as a Research Assistant for UNC's GrantSource Library and as a Knowledge Services Assistant for Ipas, a non-profit women's health research organization. She also completed internships in the Instruction and Outreach department at the Duke University Libraries and at UNC's Health Sciences Library. Prior to pursuing an MLS, she spent four years as an Indexer and Editor for the Alternative Press Index and had previously worked as a Circulation Assistant for the Baltimore County Public LIbrary. Ms. Adamo has a BA in Literature from Antioch College.
Kristen Burgess
University of North Texas, 2010

Kristen Burgess received her MLS with a specialization in Health Informatics from the University of North Texas in 2010. She received her BA in International Studies from Emory University during which time she studied in France and interned at a primary school and health clinic in Uganda. While completing her MLS, Ms. Burgess worked as the Senior Administrator at KDH Research & Communication, a public health and public policy research institution. During this time she also interned with the MetaArchive Cooperative and the Morehouse School of Medicine Library in Atlanta, Georgia and volunteered in the Family Library and the Inman Medical Library at Children's Healthcare of Atlanta at Egleston.
Kristen Greenland
University of Washington, 2010
Kristen Greenland received her MLIS from the University of Washington in 2010. She received a PhD in Molecular & Cellular Biology from the University of Washington in 2008, and a BA from Carleton College in 2001 with a major in Biology. During her time in the MLIS program, she worked as a research scientist in the biochemistry department where she studied cell division regulation in yeast. Dr. Greenland has completed an internship at the National Network of Libraries of Medicine Pacific Northwest Regional Medical Library and participated in a study abroad program to the Netherlands in the summer of 2009
Stephen Kiyoi
University of California, Los Angeles, 2010
Stephen received his MLIS from UCLA with a focus on Medical Informatics in 2010. While pursing his degree, he worked as a Public Service Assistant at UCLA's Louise M. Darling Biomedical Library and as a student assistant to Christine Borgman, Presidential Chair of the Information Studies department. He also interned at the Norris Medical Library at the University of Southern California. Mr. Kiyoi is a recipient of the Medical Library Group of Southern California and Arizona's student scholarship of 2010. He received his Bachelor's degree from the California Polytechnic University, San Luis Obispo in English Literature.
Caitlin Sticco
University of Wisconsin at Madison, 2009
Caitlin Sticco received her MLS in 2009, and a Specialist Certificate in Library and Information Studies in 2010, both from the University of Wisconsin at Madison. She received her BS in Biomedical Science from Antioch College, and has worked as a technician in molecular and cellular biology. While completing her graduate education, Ms. Sticco worked for the Wisconsin Clearinghouse for Prevention Resources as assistant special librarian and the UW Laboratory for Optical and Computational Instrumentation as a bioimaging informatics research assistant. In 2010, she also received the C. Berger Group Entrepreneurial Promise Award, for reflecting an innovative spirit and showing promise for an outstanding career in a special library, non-traditional library setting, or as an entrepreneur.
Salima M'seffar
L'Ecole des Sciences de l'Information, 2004
Ms M'seffar is from Morocco and is an International Fellow. She received her BA in June 2004 from L'Ecole des Sciences de l'Information in Morocco with honors, and her certificate in Spanish in 2008. She joined the National Institute of Hygiene (Rabat, Morocco) in November 2004 where she is in charge of the Library. Since the National Institute of Hygiene started working on its transition to becoming the National Public Health Agency, Ms M'seffar has supported its decision making through online searching and survey, and supporting ISO quality certification in Laboratories.
Last Reviewed: February 2, 2022