The Allergist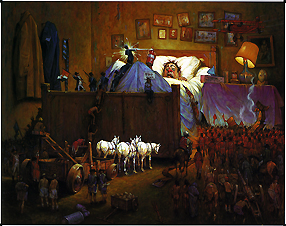 The Allergist by Jose Perez
(Oil on Canvas, 30 in x 24 in, 77 cm x 61.5 cm)
Copyright: This image may not be saved locally, modified, reproduced, or distributed by any other means without the written permission of the copyright owners.
---
In this painting, Perez chose not to include a doctor -- perhaps because a patient with allergies often endures the battle alone. Anyone with allergies can appreciate the plight of the patient. The poor, red-nose man cowers in his bed, helplessly spraying bug repellent while the army of invading warriors -- pollution, pollen, and dust mites -- relentlessly marches on him.
These miniature tormentors seem likely to win the battle, causing their prey's mucous membranes to swell and itch. And when the warriors have finished their work, they will probably retreat and camp somewhere nearby, perhaps under the pillows or bed sheets, to rest before attacking again.
---