The Opthalmologist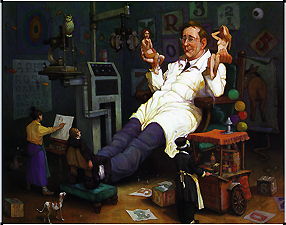 The Opthalmologist by Jose Perez
(Oil on Canvas, 24 in x 30 in, 61.5 cm x 77 cm)
Copyright: This image may not be saved locally, modified, reproduced, or distributed by any other means without the written permission of the copyright owners.
---
Perez has a special appreciation for ophthalmologists because he suffers from glaucoma. If it were not for eye surgery he would no longer be painting. Perez knows firsthand what it is like to make frequent visits to the eye doctor. This doctor is a caricature of Perez' own doctor and Perez is the patient with the vision problems. Perez says, "I would bet ten to one that the unorthodox practices of this doctor's test for color blindness (redhead or blonde?) would make most any chap's eyes pop like corks on champagne bottles and see anew."
Other parts of this painting show unexplained subplots and all sorts of ingenious ways to test the eyes that would do justice to the original Rube Goldberg.
---