The Neurologist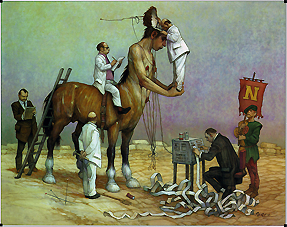 The Neurologist by Jose Perez
(Oil on Canvas, 24 in x 30 in, 61.5 cm x 77 cm)
Copyright: This image may not be saved locally, modified, reproduced, or distributed by any other means without the written permission of the copyright owners.
---
Neurologists love to observe and measure. Historically, their tools have been the percussion hammer for knee jerks, the vibrating fork for bone conduction, and the pins for determining whether the patient is numb or faking it. Today, neurologists use electroencephalograms to tell when we're brain dead.
Medical students can spot a neurology professor a ward away. They're almost invariably serious-minded, academically oriented males with a penchant for raising the possibility of an extremely rare and always incurable malady named after some seventeenth-century Frenchman. Polyneuropathy, neuroprexia, amyotrophia, and encephalopathy are just some of the hard-to-pronounce words neurologists typically love to let casually roll from their tongues. No doubt the doctor peering into the centaur's skull is about to pronounce the poor fool as suffering from anencephaly.
---