The Surgeon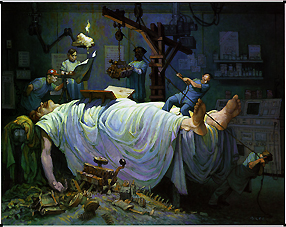 The Surgeon by Jose Perez
(Oil on Canvas, 24 in x 30 in, 61.5 cm x 77 cm)
Copyright: This image may not be saved locally, modified, reproduced, or distributed by any other means without the written permission of the copyright owners.
---
Although it may remind one of a repair shop, the operating room goes far beyond that. It represents the incredible innovations in medicine that have allowed man to repair and replace body parts. Someday we might be able to keep human beings running indefinitely, rather like restored antique cars.
Perez' block-and-tackle rig is testimony to the inestimable value of practical tools in even the most complicated of technical situations. It's somewhat reminiscent of one of those television scenes in which a white-coated doctor comes dashing out of a helicopter carrying a donor heart in a polystyrene drink cooler.
The size of the patient in relation to the size of the repairmen -- the surgeons -- is an interesting feature of this painting, perhaps to express the intricacy of the human body.
---