The Pathologist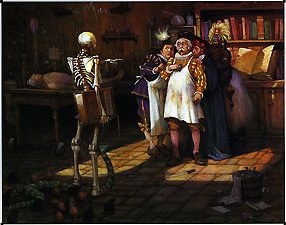 The Pathologist by Jose Perez
(Oil on Canvas, 24in x 30in, 61.5cm x 77cm)
Copyright: This image may not be saved locally, modified, reproduced, or distributed by any other means without the written permission of the copyright owners.
---
The pathologist usually has the last word in medicine, because he does the autopsy. He tells everyone else what the correct diagnosis should have been and why the treatments didn't work. He can also be the ace in the hole for a malpractice defense attorney, and the secret weapon of the plaintiff's attorney.
In this painting, the tables seem to have been turned on the pathologist. Death has come back to tell the pathologist what was done incorrectly. As Death straddles the Jungian snake amid a horde of rats on the morgue floor -- symbolic of the carriers of the disease that caused the plagues of earlier times -- he points an accusatory finger at the doctor and his assistants.
The assistants may know about many more mistakes, judging from their fear of the defiant skeleton. Even the witch doctor looks a little frazzled as he tries to use his magic to shift the blame to someone else.
Notice the autopsy knife, which the pathologist has dropped on the floor in fright. What fresh mistakes have been made on the body on the morgue table? Is the pathologist trying to bring this fellow back to life with all those strange contraptions? Is this what Death is chiding him about?
---