A Day in Court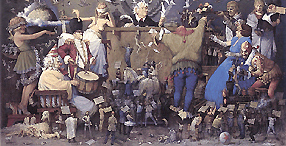 A Day in Court by Jose Perez
(Oil on Canvas, 48 in x 96 in, 123 cm x 246 cm)
Copyright: This image may not be saved locally, modified, reproduced, or distributed by any other means without the written permission of the copyright owners.
---
This artistic commentary on the world of law is included in the series on medicine because the two professions are intrinsically linked together. Not only will one-third of all U.S. doctors be sued every year for malpractice, but defensive medicine results in billions of dollars of over testing. Some fields of medicine such as obstetrics are losing frightened practitioners at an alarming rate. Poverty, child abuse, environmental neglect, discrimination, illiteracy, drug abuse, and other social ills all affect our health, and all involve both professions.
Perez painted 'A Day in Court' after having spent a frustrating day in court himself over a minor legal dispute. The parables and metaphors of his insight are visible in every part of the canvas, and all sorts of engrossing subplots capture the attention of the viewer. Meanwhile, the whole scene comes together masterfully in the look on the face of the judge, who bears an unmistakable resemblance to Perez himself.
Persons viewing this painting seem to have different favorite characters, depending upon their own experiences. While Justice sleeps and the court jester does his tricks, practically every segment of society tries to get the attention of the judge for its own political needs. One can look at this painting for weeks and still discover fresh aspects which have remained previously unnoticed. Like characters in a parade, all the characters in this painting seem the same, and yet different.
---