The Urologist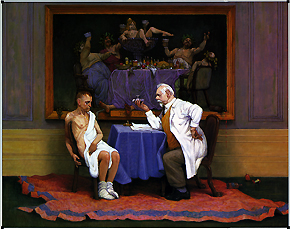 The Urologist by Jose Perez
(Oil on Canvas, 24 in x 30 in, 61.5 cm x 77 cm)
Copyright: This image may not be saved locally, modified, reproduced, or distributed by any other means without the written permission of the copyright owners.
---
The body language of the patient in this painting is almost too painful for comfort if you're a man past fifty. As the doctor explains where he's going to have to implant the replacement faucet, the patient squeezes his legs, curls his toes, pushes on himself, and eyes the doctor with a helpless look which only those who have ever been catheterized can understand.
What is going on in the painting on the wall? This is symbolic of a scene from the patient's life. His past sins are all there: drinking, carousing, and unsafe sex. A visit to the urologist -- with its attendant "punishment" -- must seem to the patient like a day in court.
---