The Otorhinolaryngologist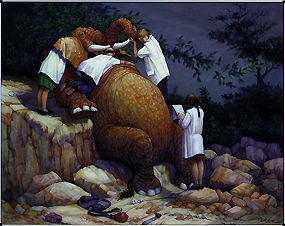 The Otorhinolaryngologist by Jose Perez
(Oil on Canvas, 24 in x 30 in, 61.5 cm x 77 cm)
Copyright: This image may not be saved locally, modified, reproduced, or distributed by any other means without the written permission of the copyright owners.
---
Imagine the challenge of treating this patient for a nosebleed, chronic rhinitis, or a blocked eustachian tube! What better patient for the ear, nose, and throat doctor than an elephant? These otorhinolaryngologists could spend hours trying out all their latest fiber-optic scopes on this patient's elongated nose. And what a playground these ears make for one fascinated by external canals and tympanic membranes! Imagine removing a ball of wax from these caverns.
Although this patient looks cooperative and docile, the doctor must never forget that a sneeze might be disastrous. And if the assistant happens to step on a ticklish toe, it might provoke an uproarious protest and result in one squashed assistant.
---