The Orthopedist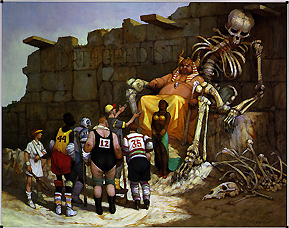 The Orthopedist by Jose Perez
(Oil on Canvas, 24 in x 30 in, 61.5 cm x 77 cm)
Copyright: This image may not be saved locally, modified, reproduced, or distributed by any other means without the written permission of the copyright owners.
---
A gargantuan figure, the doctor in this painting sits on his antique throne of bones and conveys a sense of power and authority. The ruins of the Roman wall and the Egyptian nurse standing in front of the doctor are signs that orthopedics is one of the oldest branches of medicine. In fact, archaeologists and paleontologists have found evidence of set bones dating back to primitive times.
Various athletes approach the doctor's throne to ask in reverential fashion for healing of their sports injuries. They probably already know that complete obedience to the doctor's commands will be demanded of them. The doctor will surely tell them to stop doing what they are doing, or, if they're not doing something, to begin it.
The enormous size accorded the doctor could reflect the fact that many orthopedists played football in their college days and still enjoy being on the sidelines in their role as doctors. Or it could simply be acknowledgment of the degree of trust placed in him by most patients, who are probably the most compliant of patients because of their desire to return to their sport as soon as possible.
---