The Pediatrician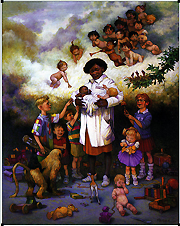 The Pediatrician by Jose Perez
(Oil on Canvas, 30 in x 24 in, 77 cm x 61.5 cm)
Copyright: This image may not be saved locally, modified, reproduced, or distributed by any other means without the written permission of the copyright owners.
---
Perez painfully remembers his childhood days during the Depression, when there was little money for medical care. He is thankful for the care he was able to provide in later years for his own two daughters.
From a psychological standpoint, it's interesting to note that there are no sick children in this painting. Under the supervision of a mothering pediatrician, the little patients all seem to be enjoying healthy lives. And from the heavenly clouds, the babies yet to be born seem anxious to receive their first medical checkups.
It's a shame the Utopian happiness of this painting isn't a reality in our society today: Drugs, violence, and child abuse are all too real. But somehow, with regards to children Perez wanted to show things the way they should be, not the way they often are.
---