The Alternative Practitioner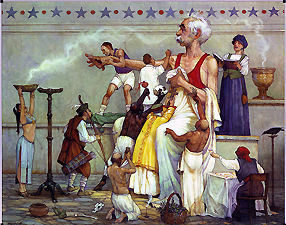 The Alternative Practitioner by Jose Perez
(Oil on Canvas, 24 in x 30 in, 61.5 cm x 77 cm)
Copyright: This image may not be saved locally, modified, reproduced, or distributed by any other means without the written permission of the copyright owners.
---
Alternative medicine is a recently popular, politically correct term that refers to all those methods of treatment which fall outside the blessing of conventional medicine. Mainstream medicine has lagged light-years behind its patients in recognizing the worth of many of these unconventional treatments. And practitioners have only recently been dragged, kicking and screaming, to the point of acknowledging their potential value.
This painting shows a rather senior citizen who looks as if he could win his age group at the New York Marathon. He seems perfectly at ease as the numerous alternative practitioners minister to his needs. Acupuncture, biofeedback, vitamin therapy, reflexology, visualization, homeopathy, divine intervention, meditation, and therapeutic touch are all part of this canvas scene, just as they are a part of our world of medicine, from Zaire to Peking, from Paris to New York.
---