The Internist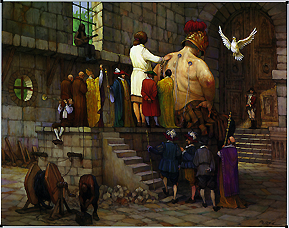 The Internist by Jose Perez
(Oil on Canvas, 24in x 30in, 61.5cm x 77cm)
Copyright: This image may not be saved locally, modified, reproduced, or distributed by any other means without the written permission of the copyright owners.
---
The medieval setting Perez chose for this painting seems to fit the personality of the specialty. It also adds strength to Perez' belief that men still hold archaic opinions about women and often treat them accordingly. Yet, when things go wrong, they often cry for their mother -- hence the woman internist.
The churchmen and court attendants represent all the other professionals who surround the department of internal medicine -- and there's a strong contingent from the area of religion. Is that because the internist needs divine direction, or because the patient may need to be helped into the next world?
In spite of the fact that he is symbolically larger than the doctor, the patient certainly dares not question her medical judgment. The assistants reverently participate in the ritual of the placing of the electrodes. Meanwhile, who or what is on the other side of the door? Could it be the hospital review committee, the only entity with the audacity to question a discharge diagnosis? Or could it be the all-powerful, third-party payer who will accept or reject the doctor's fees for services with the flick of a computer printout?
---