The Chiropractor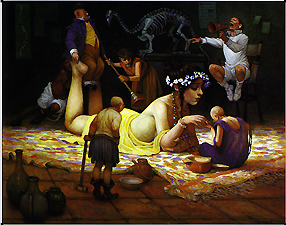 The Chiropractor by Jose Perez
(Oil on Canvas, 24 in x 30 in, 61.5 cm x 77 cm)
Copyright: This image may not be saved locally, modified, reproduced, or distributed by any other means without the written permission of the copyright owners.
---
This Doctor of Chiropractic Medicine, to keep up with his competitors, is broadcasting the successes of his treatments to anyone who will listen. The skeleton is the teaching tool that reminds us of the many problems resulting from our evolutionary predilection for standing upright instead of crouching on all fours.
The Buddhist caressing the patient's hand symbolizes the importance of touching to this profession. The patient seems quite relaxed as her legs are manipulated and an adjustment to her spinal column is about to be done. Maybe she won't be quite as relaxed when the fellow with the mallet steps in for a little percussion massage.
The earthen jugs symbolize the assimilation of holistic medicine and nutritional supplements into the mainstream of Chiropractic Medicine. What is in them, nobody knows -- but this patient seems to be thriving.
---