The Family Practitioner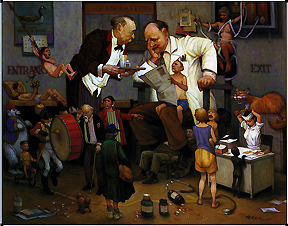 The Family Practitioner by Jose Perez
(Oil on Canvas, 24in x 30in, 61.5 x 77cm)
Copyright: This image may not be saved locally, modified, reproduced, or distributed by any other means without the written permission of the copyright owners.
---
This painting reminds us that doctors are human, too. They get worn out and weary and succumb to the same stresses as their patients. This poor family "doc" is like the old woman who lived in a shoe. He has so many patients he doesn't know what to do.
Since the doctor appears to be overcome by the demands of his practice, his assistant patiently offers him some of his own medicine. Meanwhile, the patients appear to be faring better than the doctor.
The small, malnourished black child and the undernourished white child swinging on the rope are symbols of world hunger. The crying, naked child held by the mother in shorts, and the lady with the deaf old man tell us that most of us will be as children twice.
The man sitting on the doctor's knee nonchalantly reads the paper, exemplifying the ability of some people to remain detached, no matter what the impending diagnosis may be. The inebriated chap between the doctor's feet shows another way of coping with examining-room anxiety.
---